Sunday, October 1, 2023
Your Deliverance Draws Nigh!
A Message from Saint Michael The Archangel Given to Beloved Shelley Anna on the 1st day of October 2023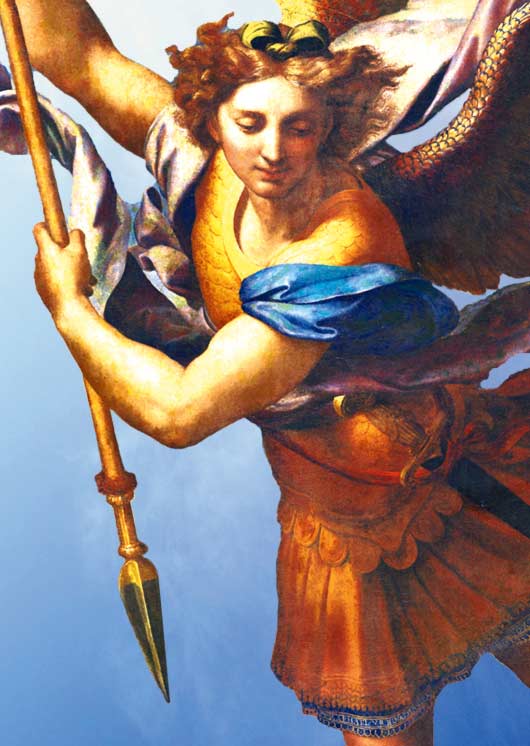 As the feathers of Angelic wings overshadow me, I hear Saint Michael The Archangel say.
The antichrist spirit is made manifest in fleshly vessels, one in particular that will be the head in authority.
DURING THE TRIBULATION
After his reign of peace, (that will be a counterfeit peace,) his tyranny will begin. His mark of damnation will be activated, dammed souls will then become vessels for the demonic spirits awaiting to be unleashed.
I, Saint Michael will defend you from the fallen angels that have dominion in the sinful world, that take earthly authority.
Your soul is safeguarded by the Holy Spirit that dwells within you. I bring forth the Protection of The Lord that surrounds you in this dark hour.
HAVE NO FEAR, BELOVED HEART DWELLERS OF CHRIST,
Your safe refuge is secure in The Sacred Heart of Jesus Christ! Who will deliver you from the wrath to come!
Let your prayers be without ceasing
Pray Our Blessed Mother's Rosary of Light, that dispels the darkness, and leads the lost to Jesus Christ where Salvation is assured.
I stand ready with multitudes of angels to defend you, from the wickedness and snares of the devil, who's days are few in number.
Thus saith, Your Watchful Defender.
Conformation Scriptures
Psalms 34:19
Many are the afflictions of the righteous: but the LORD delivereth him out of them all.
Proverbs 30:5
Every word of God is pure: he is a shield unto them that put their trust in him.
Psalms 25:5
Lead me in thy truth, and teach me: for thou art the God of my salvation.
Psalms 119:105
Thy word is a lamp unto my feet, and a light unto my path.
1 John 4:4
Ye are of God, little children, and have overcome them: because greater is he that is in you, than he that is in the world.