Wednesday, February 1, 2012
Message from Our Lord Jesus Christ
To His Beloved Daughter Luz De María.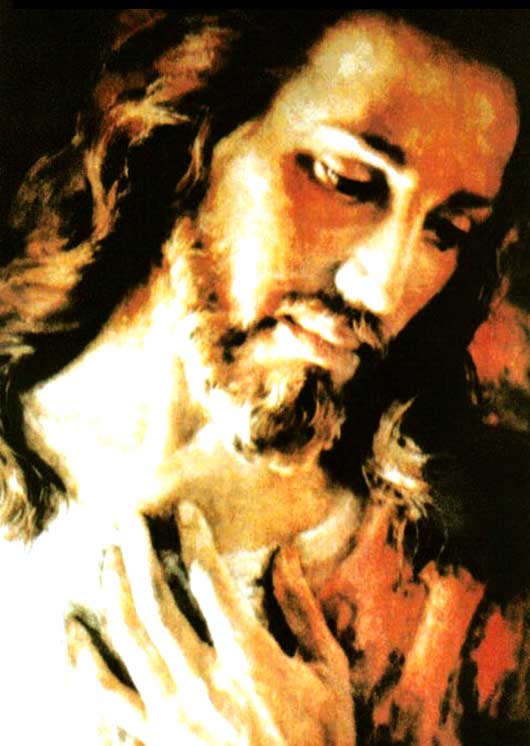 Beloved children:
I LOVE YOU, YOU ARE THE APPLE OF MY EYE.
I DWELL ON EARTH, FRUIT OF MY FATHER'S HANDS.
MY HEART IS SADDENED, IT IS OVERWHELMED.
I see the Earth and I see with sorrow. I seek souls and they are few that give light, they are few that maintain the lamp lit.
How many innocents roam the streets! How many innocents are subjected to offenses and contempt! How many killings in the world because of indiscriminate abortion and unawareness of the gift of life!
I look with sadness upon that Land of Mine where My children have exiled Me. I see it and descend, knocking on all the doors of your hearts and you close them to Me continually. My children feel I am foolish, absurd, out of style and set Me aside.
I have spoken to My People and when I speak to them warning them, the Tower of Babel that they are building grows, merely with the desire to silence Me.
CHILDREN, YOU DO NOT LIKE THE TRUTH, THE TRUTH DOES NOT SIT WELL WITH YOU. The powerful presume on their thrones. Some distribute evil in various forms: some with weapons, others obfuscate the minds of the youth, others maintain control of the nations and dominate through money. The substances permitted to fertilize the fields are not good for the development of the human body. The minds of men, My children, are being washed, preparing them for the mass control the antichrist has in his hands, and his legion which is already here on Earth preparing the way for him to come to possess what is Mine.
The fashions are not in accordance with modesty, morality, order, or goodness.
The Earth will again be dark, like the heart of those who are Mine at this instant.
I have called you to Love in order to destroy evil. You insist on indifference, on intolerance and you live on appearances.
I call you to be true, to not be Christians in name, to be My beloved in spirit and truth. The truth is extremely important for My children. I preached, I preach and will preach the truth, and I desire that you be true, that you preach with the truth and that it dwell inside each one of you.
I ORDER MY CHILDREN TO SPEAK WITH THE TRUTH.
Pray children, for South America, it will suffer.
Pray for Mexico, it will weep.
Pray for the Philippines, they will shake.
Do not turn away from one another.
MY LAW IS MY LOVE.
MY LAW IS FAITH.
MY LAW IS FRATERNITY. FRATERNITY AMONG ALL MEN.
I could send My Angelic legions to the Earth but you must live in My Will. My Angels descend continually from Heaven to Earth bringing blessing to My People and you do not want to recognize them. Instead you despise them and do not pay them any attention.
Beloved children:
THE AWAITED INSTANT APPROACHES, DO NOT HESITATE IN RETURNING TO THE PATH. Take the coming instants seriously for after you will lament, and time, which is no longer time, the present instant, will have elapsed.
Since My Father started Creation, He created time with It. Time is eternal, as Our Will is eternal. Today man abuses of that Will, he abuses of My Mercy and abuses of this instant, refusing to return to the true path.
Love My Mother, do not despise Her Calls, for She is on pilgrimage from place to place, calling you and inviting you to conversion.
DO NOT BE FOOLISH AND STUBBORN, HEED MY CALLS.
I LOOK UPON THE EARTH AND MY TEARS CANNOT BE CONTAINED
IN THE FACE OF THE SIN OF THE DISOBEDIENCE OF MY CHILDREN, TO MY CALLS.
I bless you.
Your Jesus.
HAIL MARY MOST PURE, CONCEIVED WITHOUT SIN.
HAIL MARY MOST PURE, CONCEIVED WITHOUT SIN.
HAIL MARY MOST PURE, CONCEIVED WITHOUT SIN.