Wednesday, March 7, 2012
Message from Our Lord Jesus Christ
To His Beloved Daughter Luz De María.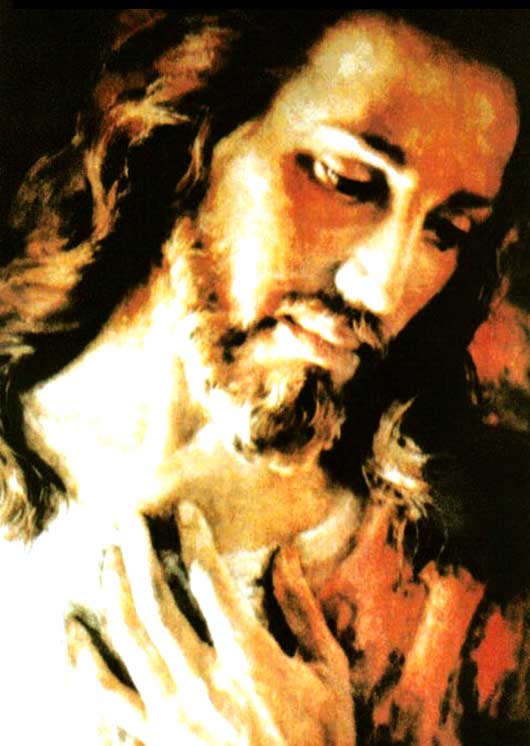 Beloved children, I love you:
ONCE MORE I APPEAL TO FEELINGS AND TO THE LOVE THAT EACH ONE OF YOU PROFESSES TOWARDS ME. YOU HAVE BEEN BORN IN MY CROSS OF GLORY, YOU HAVE BEEN BORN FROM MY SIDE.
My Mystic Body that I love, is the one I convoke today so that totally fused to Me and to My requests, you embrace My Cross with love, annulling completely your egotistic wishes and instead you should place My requests and those of My Mother.
EACH ONE OF YOU IS A TEMPLE OF MY HOLY SPIRIT. Today in this instant I do not want temples of stone, I do not want hearts of stone, I want hearts of flesh softened by My Most Precious and Regenerating Blood, that you want to fight, that you give yourselves completely to be living testimonies of My infinite Love. I want temples that fulfill My Commandments, temples that love, temples that are charity, temples in spirit and in truth.
Beloved children:
HOW MANY REQUESTS FROM HEAVEN THROUGHOUT THE AGES… AND MAN HAS NOT LISTENED!
In this instant at the approach of the fulfillment of one more cycle of this generation, I call you with all My love to transform yourselves from within, each one of you, as members that you are of My Mystic Body.
RENEW YOURSELVES FROM WITHIN FOR YOU CANNOT GIVE WHAT YOU DO NOT HAVE INSIDE. RENEW YOURSELVES WITH LOVE AND SEND EMANATIONS OF BLESSING UPON ALL OF HUMANITY.
Man keeps My teachings for himself; he keeps love, charity and forgiveness for himself without sharing these gifts with others, and this is not a proper behavior for those who truly love Me. I did not keep anything for myself, I gave everything for each one of you. I CONVOKE MY MYSTIC BODY TO THAT CHANGE, WITH STRENGTH AND WITH POWER.
Do not keep for yourselves the love that I deposit, give It to your brothers and sisters and internal transformation will begin there: when you forget about yourselves and you live for your brothers and sisters and for the fulfillment of My Will.
The Earth spins quickly, it wants to encounter purified children that responsibly return all the love with which She has housed you and with the love with which She has provided whatever you have needed. My beloved:
Do not listen to those who tell you that the Great Purification does not approach, because man's sin, his bad conduct and disobedience are what attract the purification.
I am Love and Mercy but I am also Divine Justice.
PREPARE YOURSELVES, PREPARE YOURSELVES SPIRITUALLY, RENEW YOUR SENSES. HOW YOU SIN WITH YOUR EYES, WITH YOUR THOUGHTS AND WITH THAT GREAT GIFT OF THE SPEECH!
My beloved, the Earth will convulse, the waters will be contaminated and My People will suffer greatly.
The plague advances, and man rejects all My Calls and instead evokes the antichrists with which he coexists in this instant…
The antichrists of modernisms are the ones who have undermined My children's heart:
The antichrist of new technology,
The antichrist of television that has inculcated the disrespect for the gift of life, The antichrist of the cinema that has dared even to taunt My sorrowful Passion.
The antichrist of undignified fashion,
The antichrist that has contaminated food so that My children make their bodies sick without noticing, and so many other antichrists that sing against Me and that sing so that you banish me from your hearts.
Oh how My Heart hurts! How My Heart aches before so much denial to recognize that you live among great sins!
How much sin over abounds that you call with great disrespect: "an actualization of Christian morals" and a common procedure, according to this instant that this present generation lives!
TO YOU, TO YOU, MY PEOPLE, I ESPECIALLY CONVOKE IN THIS SEASON OF LENT TO
OFFER AND EMANATE FROM THE INNERMOST DEPTHS OF YOUR BEING BLESSINGS TOWARDS ALL OF HUMANITY AND TOWARDS ALL OF CREATION.
This instant is decisive. Be true, preach with the truth, do not allow yourselves to be deceived for the devil prepares through deception the presentation of his spawn, of his protege: the master of lies that will come to undermine My People.
Pray, My People, pray for England. It will suffer in great measure.
Pray, My People, pray for Israel. It will suffer and weep.
Pray, My People, pray for Brazil. It will suffer.
All of Creation was twined with man and today Creation does not see man in this way, but on the contrary, it fears the way in which the human being acts.
I CONVOKE YOU FROM MY CROSS OF GLORY TO FREE YOURSELVES FROM EGOISMS, FROM
INAPPROPRIATE ACTION, FROM EVIL THOUGHTS AND I CALL YOU TO GATHER YOURSELVES
FROM WITHIN IN TOTAL AND ABSOLUTE SILENCE SO THAT YOU ALLOW YOURSELVES TO HEAR ME AND YOU RENEW AND TRANSFORM YOUR HEART OF STONE INTO A HEART OF FLESH.
I repeat, I do not want temples of stone. Each one of you is a temple of My Holy Spirit and I want living temples that give testimony that I dwell within them. The strength of a person of faith, is worth that of millions.
I BLESS YOU IN A SPECIAL WAY DURING THIS LENTEN SEASON, SPECIAL IN ITSELF AND BECAUSE OF THE EVENTS.
I bless all those who read this, My Word, with love and I seal them with My Precious Blood.
I love you.
Your Jesus.
HAIL MARY MOST PURE, CONCEIVED WITHOUT SIN.
HAIL MARY MOST PURE, CONCEIVED WITHOUT SIN.
HAIL MARY MOST PURE, CONCEIVED WITHOUT SIN.