Saturday, March 17, 2012
Message from Our Lord Jesus Christ
To His Beloved Daughter Luz De María.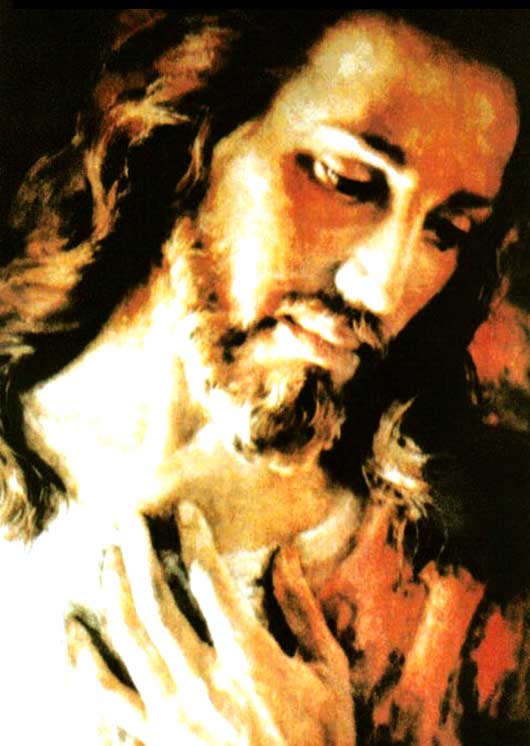 My beloved children:
I LOVE YOU, I BLESS ALL EQUALLY,
WITH MY LOVE THAT IS JUST AND MERCIFUL.
I IMMEDIATELY RECEIVE THE ONE WHO COMES TO ME WITH A CONTRITE HEART.
The firm intent of making amends is an open door to which My Angels go to help quickly so that you continue towards the path of conversion.
My Mother pilgrimages following the steps of each human being allowing the conscience to feel the quality and condition of the act or work you are going to carry out. My entire House remains attentive to humanity, since in this instant evil has annulled the conscience and My children act without thinking or meditating the consequences of their wrongful acts.
ALL OF HUMANITY DECLARES ITSELF SAVED, REDEEMED BY ME AND SO WORTHY OF ETERNAL SALVATION, INDEPENDENT OF ITS ACTS, GOOD OR BAD.
My beloved, I moulded Redemption for and before you. This profound act of My Love, is not permissive regarding the evil works of man, who does not repent for his behavior, this is: every human being must fight for salvation and must act in accordance with My Actions and Works to receive the benefit of Redemption and thus receive the prize of Eternal Salvation.
VERY MISTAKEN IS THE ONE WHO COMMITS EVIL ACTS AND BELIEVES HIMSELF WORTHY OF MY HOUSE.
I will come to separate the wheat from the weeds. And with pain my children will see their wrongful acts, and the disobedience to My calls. My Mercy has no end for the one who approaches, repents and returns to the path, and as I am a just Judge, will not obtain the same measure as the one who clinging to evil, has harvested bad fruits without hurting for it at any instant, not even when he has Me before him.
Beloved, I invite you to meditate on your actions, thoughts and desires. I invite you to act like ambassadors of My Word of fraternity, of Love, of Peace, of Forgiveness and of Charity. I invite you to know Me so that you love Me.
Children, pray for Japan, pray for these your brothers and sisters.
Pray for England, it will suffer.
Pray for Nicaragua, it needs your prayers.
My beloved, I do not delay in hearing My children, I do not delay in welcoming them, I do not delay in feeling the disobedience of the majority of humanity and see with sadness how you hand yourselves over to the fantasies of the mundane that satan offers you.
How many sink in the fear of the dates that roam everywhere referring to the end of this generation and do not welcome with love and resolution the Redemption that I gave to you!
How man walks knowing the lack of consciousness, given over to darkness and evil!
TO YOU, MY DISCIPLES, MY FAITHFUL: I INVITE YOU TO BE MISSIONARIES OF PEACE AND OF MY LOVE EVERY INSTANT. Man continues at his accelerated pace and does not see the present signs. The catastrophes do not wait, pain is looked at from afar in the hearts that have banished love. Hunger will spread quickly and the lack of charity will cause bread to not be shared. Rebellions will increase to awaken from country to country the man that lies ill due to lack of truth. Human insensitivity has exiled this KING; I seek hearts in which truth, love, commitment, decision, charity, honesty and fraternity reign.
TO YOU MY FAITHFUL, I INVITE YOU TO REMAIN UNITED, VERY UNITED. Evil infiltrates in the midst of My faithful to cause division, remain alert. The great empires have been undermined by disunity, the great heroes are not those that March alone but in communion of souls and fused to Me. As the stars sparkle and shine in the firmament, so My faithful adorn My House.
My beloved, you are My treasures.
I bless you.
Your Jesus.
HAIL MARY MOST PURE CONCEIVED WITHOUT SIN.
HAIL MARY MOST PURE CONCEIVED WITHOUT SIN.
HAIL MARY MOST PURE CONCEIVED WITHOUT SIN.