Wednesday, June 3, 2015
Sanctuary at Saint Clement Parish, Medellin, Colombia. Call from Sacramental Jesus to His Faithful People.
The Holy Rosary to My Mother Will Be the Bridge That Wil Connect You to Me in the Days of the Great Tribulation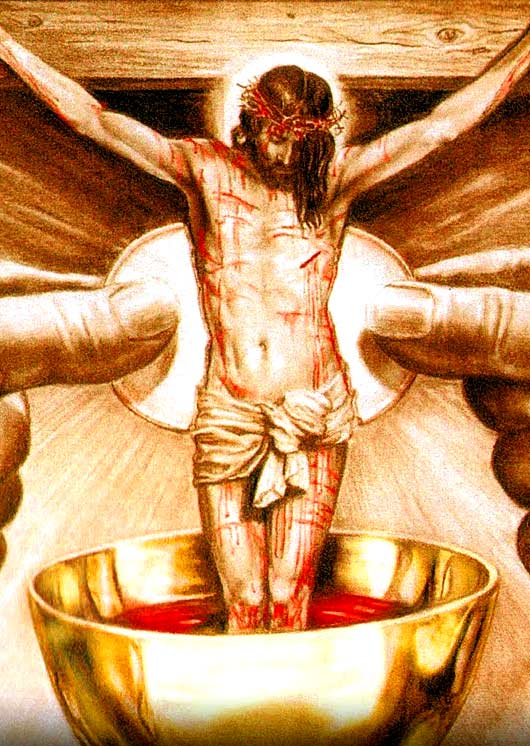 My children, peace be with you.
How happy I am to see you all congregated here in Eucharistic Adoration. Here I am as a mendicant of love, waiting for each one of you to make me company. Solitude overwhelms me in many of my sacred places, do for me my beloved ones acts that relieve me so that you may mitigate the pain I feel for the indifference of so many who say they love me but don't have time to come visit and talk with me. Remember that I am your Father, brother, friend, counselor and above all your God. Ungrateful children, don't pass by my houses, come in to visit and comfort me and I will give you my blessing.
Oh, how many graces and blessings are my children missing by living in a rush and not taking time to visit me and accompany me at least for a moment! If you are sensible you would draw near Me and you would calm your thirst in the fountain of my Mercy that is always there waiting for you in the silence of every tabernacle. But no, the immense majority of this humanity is blind, deaf and mute before my presence Alive and Real in each Tabernacle.
Oh ungrateful and sinful humanity, the days are approaching when you will no longer find me in the silence of every Sanctuary because my houses will be profaned by the children of darkness! How mournful I feel to know that again I will be betrayed and delivered to the hands of my oppressors by many who today say to be my family! Tomorrow, millions will turn their backs on me for fear of death, they will betray and deny me in front of my oppressors, claiming not to know me. I truthfully tell you again: For he who would save his life for my sake will find it (Mathew 16,25). For many are called, but few are chosen (Mathew 22,14)
My children, again sadness and solitude overwhelm me. Come to my Sanctuaries and keep guard with me, because the days when you will no longer find me in the silence of my Sanctuaries and Tabernacles are approaching. My houses will be closed, my daily Sacrifice suspended, and my Body and Blood profaned by evil emissaries at the service of my adversary. Times of darkness are approaching, pray and keep guard so that you don't fall into temptation; the night is close, again the Shepard will be wounded and the sheep will disperse.
My flock, don't be saddened. I will not abandon you, in the times of the Great Tribulation My Mother will be the Sanctuary where I will remain. She, my Mother will be as Alive and Real as I am now in the midst of all of you. Call upon her by praying the Holy Rosary, and I, her Son, will allow those who seek me with since heart to find me. My Mother is the bridge to come to Me and all those who remain by her side in those days of anguish, will have her protection and will not be alone. I will come to you through my Mother to console you and give you spiritual strength, and like at Pentecost I will also give you my Spirit so that you will convey my truth and my gospel, and illuminate the darkness on those days.
I need you my loved ones, to start preparing now for the great spiritual battle that will give you freedom. Remember that the weapons I give you are powerful in the spirit to overthrow the fortresses. Oil then your Spiritual Armor with prayer, fasting and penance. Pray every morning and evening the Holy Rosary alongside my Mother, read my Holy Scripture, especially my Gospel and Acts of the Apostles. Practice justice, love and charity with your brothers, and feed yourselves with my Body and Blood as much as you can so that you will be true spiritual soldiers. The Holy Rosary to my mother will be the bridge that will connect you to me during the days of the great tribulation. Heed these my instructions so that you remain united in the days of darkness that are approaching.
My peace I leave you, My peace I give to you. Repent and convert as the Kingdom of God is at Hand.
Your Master, Sacramental Jesus.
Make my messages known to all humanity.