Wednesday, April 18, 2012
Message from the Blessed Virgin Mary
To Her Beloved Daughter Luz De María.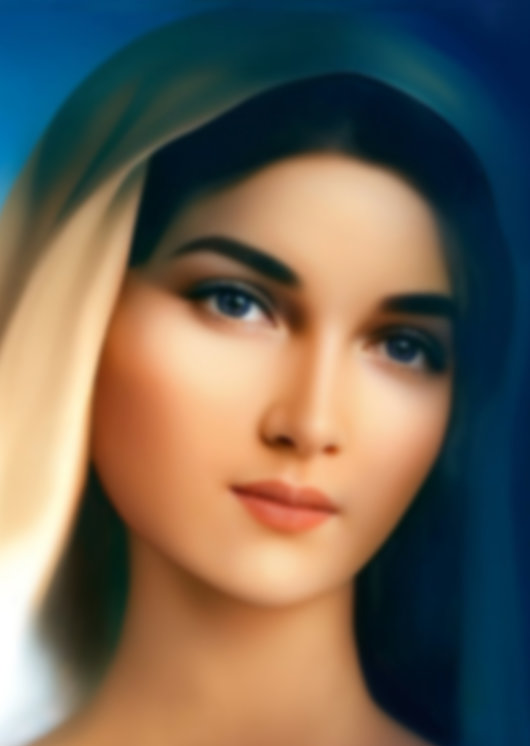 Beloved Children of My Immaculate Heart:
I bless you.
You have before each one of you a path, a path and in the human will each one takes the one he or she so desires. The path remains open and will remain open until the final instant of life just as My Divine Son's infinite Mercy remains open.
DO NOT CALL FATHER THE ONE YOU DO NOT RESPECT AS FATHER.
DO NOT SAY I BELIEVE, IF YOU DO NOT BELIEVE.
DO NOT ASK FOR BREAD, IF YOU HAVE NOT WORKED TO EARN IT.
DO NOT ASK FOR WATER, IF YOU DO NOT SEEK IT ON YOUR OWN.
Life, children, is a continuous labor, however, in actuality you want everything to come without the least effort, in exchange for nothing. You do not seek to create merits but that merits be given to you.
IN THIS INSTANT HUMANITY FINDS ITSELF IN ITS GREAT MAJORITY, EMPTY, EMPTY OF INTERESTS, OF THOUGHTS, EMPTY OF DESIRES TO EXCEL, BUT ABOVE ALL, EMPTY OF GOD.
What is man without God?
He is nothing, he is an inert being totally inert, totally stripped of everything, oblivious of everything, totally empty of everything.
My children, I invite you again to fall on your knees, to be aware of this instant so transcendental in the history of humanity. Transcendental as you find yourselves on the summit of the fulfillment of the Prophecies. You hear through all the media the word Prophecy, you hear the word Revelation, and you have not stopped to think nor meditate that the Prophecies given years ago, given by Heaven, by My Son and by this Your Mother, will be come to fulfillment, as all Word from Heaven has been fulfilled.
The coming and going of the everyday, the debauchery of the mind, the inconstancy of the human being makes you think that what has been announced will not happen. When you think that time passes and the events do not arrive, you mock My Son's Word and Mine; but the instant has arrived in which you will not be able to mock, instead the cry will come out from the eyes of those who have not believed. The word asking for help will reach the mouth of those who have persecuted My Son's Prophets, those who risking themselves before a world without God, have opened their lips to proclaim the plans of the Paternal House.
Beloved of My Immaculate Heart:
RECONSIDER!
YOU MUST SHOW RESPECT WITH MY SON'S WORD,
IT IS FULFILLED AND WHEN HE APPOINTS A PERSON FOR A SPECIAL MISSION, HE TAKES HIM OR HER COMPLETELY.
You who call yourselves My children, must not be determined to change one aspect or in several aspects, but a total and radical… ABSOLUTE change must be generated.
My Son does not want children just for a limited period of time, He does not want it to be you to say: I have change a little, because those He will vomit from His Mouth. These are not instants for those who are lukewarm, but for the children of faith, for those who sacrifice themselves completely and commit themselves to that life of the spirit that requires detachment from all those tastes, desires, pleasures and wants, of a detachment until it hurts, until the human ego bleeds.
Children:
IN THIS TRANSCENDENTAL INSTANT YOU CANNOT PRETEND TO SERVE MY SON, BE MY CHILDREN AND FLIRT WITH THE WORLD, WITH WHAT IS WORLDLY, FOR YOU WILL BE SATAN'S PREY.
THE ONE WHO IS OF MY SON IS OF MY SON,
THE ONE WHO IS NOT OF MY SON, IS NOT OF MY SON.
In this instant those who are truly faithful and those who disguise themselves at moments to feign a false fidelity will come face to face.
The Earth continues to shake in its desire that man turn his eyes to his Creator.
Pray children, pray for one another.
Intercede for the Holy Church that on occasions loses its holiness through its unfaithful children who betray it.
Pray children, pray for the United States.
Pray for the Middle East.
Pray children, because the fury that the Earth has contained within it, emerges, emerges to the surface and My poor children suffer greatly.
The waters stir again, I call you to pray for one another, to be a single heart, to protect one another, to live in unity and TO BE A SINGLE HEART. The devil seeks the disunion of My children, that is the weapon through which he fights.
UNITE! IF YOU KNOW THAT IS THE WEAPON, FIGHT WITH UNITY, WITH UNITY. LOVE ONE ANOTHER!
How much has been revealed to you, how much you know and this is the instant to put it into practice!
I DESIRE ACTIVE CHILDREN, NOT PASSIVE CHILDREN.
EACH ONE OF YOU MUST FORMULATE THE PURPOSE OF BEING THE SPOKESPERSON FOR THE FATHER'S HOUSE, OF MOVING THE HEARTS OF YOUR BROTHERS AND SISTERS, OF RAISING YOUR VOICE WITH COURAGE AND OF BEING ONE MORE FAITHFUL IN MY RANKS.
My Son has entrusted to Me His Mystic Body so that I guide it in these coming instants, and thus, as Mother of Good Counsel, as Pilgrim of Love, I pilgrimage in every heart, seeking that the door be opened to Me.
ALLOW THE HOLY SPIRIT TO POUR FORTH IN YOU THE FULLNESS OF HIS GIFTS, THE COMING INSTANTS ARE EXTREMELY DIFFICULT AND OF CONFUSION FOR THE CHURCH.
Maintain your gaze on My Son, your thoughts, your heart and your will in My Son.
Do not forget the use of the Sacramentals, but above all do not forget that if you do not remain IN GRACE, they do not fulfill their purpose.
Fight, fight with all your strength, with all your powers and senses to remain on the correct Path, to remain FIGHTING, but without falling, strong with the purpose of remaining beside My Son on that Cross, which more than pain signifies Resurrection, Glory, new Life and to that you are led: to the Resurrection.
I BLESS YOU AND CALL YOU TO UNITY, TO NOT DESTROY BUT TO BUILD.
Remain in My Son's peace.
I bless you.
Mother Mary
HAIL MARY MOST PURE, CONCEIVED WITHOUT SIN.
HAIL MARY MOST PURE, CONCEIVED WITHOUT SIN.
HAIL MARY MOST PURE, CONCEIVED WITHOUT SIN.