Monday, August 13, 2012
Message from Our Lord Jesus Christ
To His Beloved Daughter Luz De María.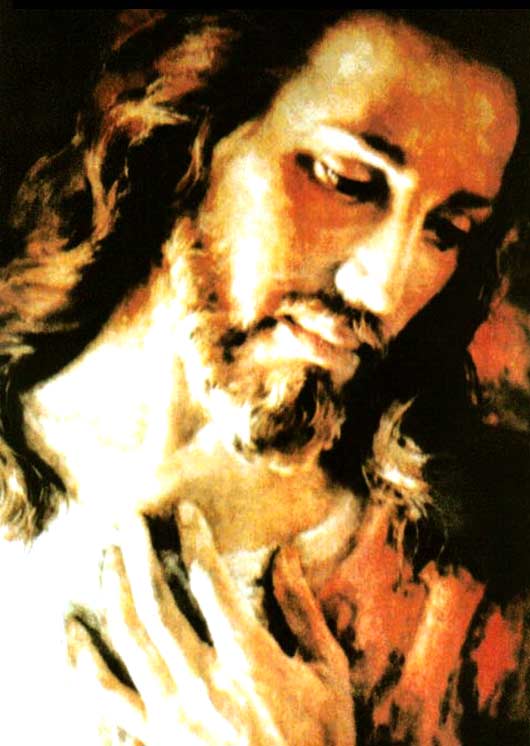 Beloved children:
I bless you, you are My People.
MY LOVE SPILLS OVER ALL WITHOUT ANY DISTINCTION WHATSOEVER, IT PENETRATES ALL, IT IS IMMERSED IN ALL. IT IS HUMAN FREEDOM THAT IMPEDES MY LOVE FROM PENETRATING INTO THE DEPTHS OF YOUR BEING.
Appealing to My Mercy towards you, I come along with My Mother, to invite you in each call, to that transformation, to that walking, to that remaining faithful testimonies of My Love.
I SEE WHAT YOU DO NOT SEE. From there comes My constant call to humanity, which is heading towards the precipice of the encounter with evil where weeping, pain and trial do not wait. You continue without opening your eyes, without wanting to listen and denying a truth that cannot be hidden.
SCIENCE HAS JOINED FORCES WITH THE GREAT POWERS TO LEAD MY CHILDREN TO CREATE NUCLEAR ARMAMENT THAT WILL PUT AN END TO MY CREATION. The man of science has created great advancements in this age and man, feeling greatly advanced in technology, has been gullible and foolish, letting himself be carried away by it. He has not been aware that he has not progressed but rather has receded in great measure, he has receded in all aspects, turning away from Me, instant to instant.
INSTEAD I DO NOT CEASE TO EXPLAIN MY WORD RECORDED IN SCRIPTURE, I DO NOT CEASE TO EXPLAIN MY INFINITE LOVE, OR MY JUSTICE.
I COME FOR MY PEOPLE, FOR THE ONE WHO REMAIN FAITHFUL.
My beloved, the bell has tolled and in this instant, at tolling, has announced to humanity the beginning of great conflicts between Nations.
MY PEOPLE MUST REMAIN UNITED. My children must remain united closing off to the devil any opening through which to penetrate and distort the unity of My children. Maintain unity and love among you so that you are able to continue on the path of faith and are not thrown down by the extreme winds that are heading towards My People. Be people of love, of mercy, be unity among yourselves.
I see some of My children yielding before evil's constant threat. You my faithful, do not fear, I do not abandon you, your Brothers and journey Companions, your Heavenly Guardians stand by waiting for a single sign from Me to defend and help My Children.
YOU ARE NOT ALONE EVEN THOUGH HUMANITY WILL LAMENT, WILL SUFFER AND WILL WEEP…, YOU ARE NOT ALONE.
THE ANTICHRIST HAS RISEN, HE HAS EXTENDED HIS TENTACLES AT THE RINGING OF THE BELL, HE HAS STRAITENED UP AND HAS GAINED STRENGTH.
My People, pray for the United States.
Pray for Israel.
Pray for England.
Terror approaches and in the face of terror, My children unite in a single embrace of solidarity, forming a great wall to overcome the attacks of the enemy.
MY WORK REMAINS AND WILL REMAIN, it will go to where My Will desires it to go to, through it maintain My People alert, firm, and knowing that I do not abandon you.
DO NOT FEAR, WHOEVER LOVES ME DOES NOT FEAR, he or she knows that I reciprocate far beyond your giving of yourselves to Me.
DO NOT FEAR, I WILL SEND MY HELP DIRECTLY FROM MY HOUSE SO THAT MY PEOPLE DO NOT
FALTER, BUT I NEED FAITH, COURAGE AND BRAVERY FROM YOU WHOM I HAVE CALLED TO SHAPE MY PEOPLE.
Once again I recall the instants when My People wandered through the desert and were fed by My Father's Hand. So will it be in this instant, it could not be any other way on the part of a Father who loves His children infinitely. Do not fear, be sure of My Protection, of the protection of your journey Companions and keep your eyes fixed on high.
The Signs will not cease, not on earth or in the firmament.
MY PEACE BE WITH EACH ONE OF YOU, MY STRENGTH AND MY LOVE REMAIN WITH MY PEOPLE.
MY MOTHER'S PROTECTION REMAIN OVER MY PEOPLE.
ALL MY HOUSE REMAINS OVER MY PEOPLE.
I bless you, My Peace be with you.
Your Jesus
HAIL MARY MOST PURE, CONCEIVED WITHOUT SIN.
HAIL MARY MOST PURE, CONCEIVED WITHOUT SIN. HAIL MARY MOST PURE, CONCEIVED WITHOUT SIN.