Tuesday, September 4, 2012
Message from the Blessed Virgin Mary
Given in the Sanctuary of the Madonna Della Roccia. Belpaso, Catania, Sicilia, Italia. to Her Beloved Daughter Luz De María.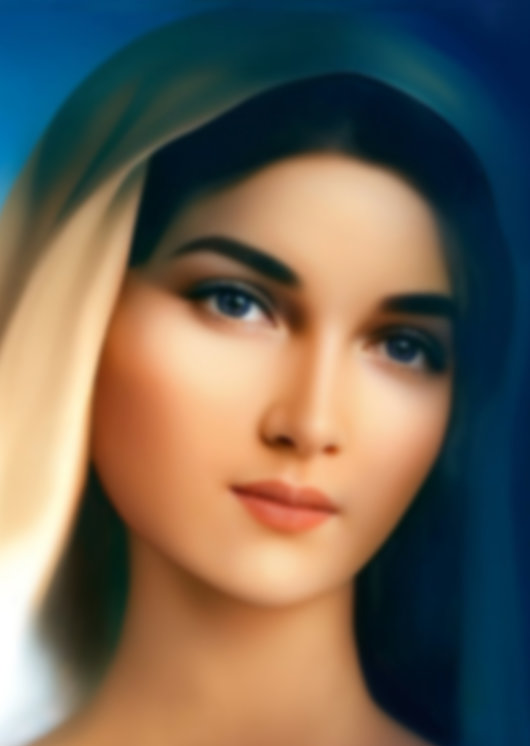 Beloved children of My Immaculate Heart:
I love you, I bless you.
I PILGRIMAGE WITH MY HEART FROM PERSON TO PERSON, FROM PLACE TO PLACE…,
CARRYING THE LIGHT OF MY MATERNAL PROTECTION TO ALL YOUR BROTHERS AND SISTERS.
Do not try to be light if you live in darkness, allow Me to guide you to the Eternal Light. Come to Me. I love you, I wait for you constantly beside My faithful.
BELOVED CHILDREN, I INVITE YOU TO BE AWARE OF THIS INSTANT. The Earth has been totally infested by the evil behavior of the human person who continues to constantly deny himself or refuse the Divine Calls and to change his or her behavior.
You yourselves will be placed before your own conscience, since you do not obey and do not return quickly to God.
THE INSTANT CEASES TO BE AN INSTANT, YOU LIVE IN NO-TIME.
MY SON CALLS YOU CONSTANTLY, I CALL YOU CONSISTENTLY AND ONLY A SMALL NUMBER OF SOULS HEED THESE CALLS.
You, My faithful, are those lights that allow this Earth to not be total darkness, even though My Mantle protects all. Lamentably, not all want to cover themselves with the same Mantle.
Humanity continues its cycle; humanity will be purified by its own hand. The sun has awakened and claims the Earth to free it from this decadent generation that makes it suffer.
Beloved children:
This is My Heart, alive and beating that is before each one of you, inviting you and calling you to obedience.
AS MOTHER I COME TIME AND TIME AGAIN, AND I WILL CONTINUE TO DO SO.
EXCEPT THAT TIME IS NOT RECOGNIZED AND THE INSTANT OF INSTANTS IS ARRIVING, IN WHICH EVERYTHING IS BEING PREPARED TO RECEIVE MY SON'S SECOND COMING. BEHOLD THE INSISTENCE FOR YOU TO RETURN TO THE PATH OF TRUTH, OF LOVE AND OF PURITY.
TURN AWAY NOW FROM WHAT IS WORLDLY, TURN AWAY NOW FROM WHAT IS WORLDLY,
TURN AWAY NOW FROM ALL THAT CONTAMINATES YOU AND THAT IS SENT BY THE ANTICHRIST TO MAKE YOU TURN AWAY MORE AND MORE FROM THE TRUE PATH.
The demons fight for the souls of men in that great Spiritual Battle that you do not see but that you perceive. The enemies of the soul fight strongly to create division among My children. Be astute and do not allow yourselves to be divided; remain united under My Mantle so that evil does not touch you.
I INVITE YOU TO PRAY, not only with words, but being a testimony of truth in daily life, seeing My Son in the poor, in the imprisoned, in the despised and in the unjustly singled out.
Let your mouths not open against your brother or sister but rather be blessing for your brother and sister.
Envy strongly seizes humanity, this is a great weapon of the malignant one to destroy My faithful. I will not allow it, I fight against evil for you. But beloved, continue to be willing to allow Me to free you.
Pray for China, it will suffer greatly.
Pray for Chile, it will suffer.
Pray for Brazil, it will suffer greatly.
My beloved, the earth continues to shake, Nature's events do not cease, on the contrary, they continue to increase. The sun also continues to give signs of the promptness of the fulfillment of the warnings that I have given you.
Be love, be like Me: I am love. Be light as I am light for those who have not found it.
I bless you.
I imprint Myself in your hearts, with My Love.
Mother Mary
HAIL MARY MOST PURE, CONCEIVED WITHOUT SIN.
HAIL MARY MOST PURE, CONCEIVED WITHOUT SIN.
HAIL MARY MOST PURE, CONCEIVED WITHOUT SIN.