Saturday, September 8, 2012
Message from the Blessed Virgin Mary
Given in the Santuario De Caravaggio. Province of Bergamo, Lombardia, Italia. Feast of the Nativity of the Blessed Virgin Mary. to Her Beloved Daughter Luz De María.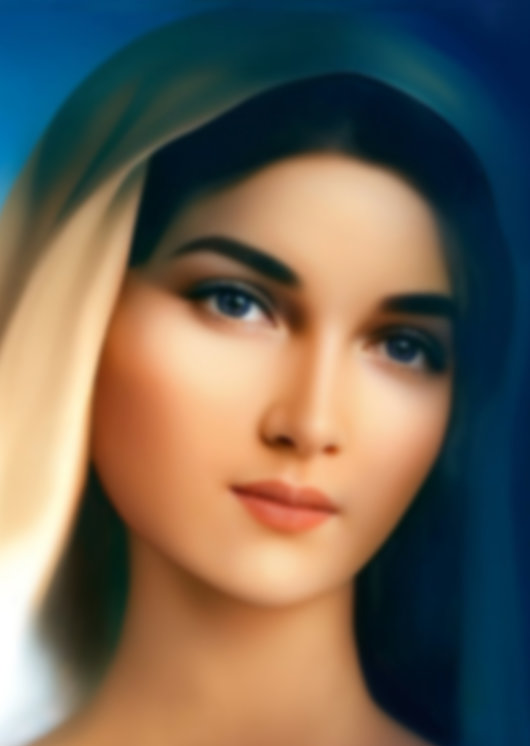 Beloved children of My Immaculate Heart:
I bless you, I walk accompanying you constantly, instant to instant.
YOU MUST GAIN STRENGTH TO CHANGE, TO BECOME AWARE OF THIS INSTANT IN WHICH YOU HAVE ENTERED: THE FINAL INSTANT IN WHICH FAITH WILL BE TESTED, LOVE WILL BE TESTED AND YOU MUST GIVE THE NECESSARY RESPONSE.
Prayers are heard, none remain in the void.
I ask you to let yourselves be transformed by My Son's Love and that that Love ascend towards your brothers and sisters through acts born from a pure and sincere heart, from a clean heart free of selfishness.
This instant, in which some have already entered with the suffering that nature has caused, is very strong. ALL OF HUMANITY WILL SUFFER GREAT PAIN AS IT HAS NEVER BEFORE LIVED… AND YOU DO NOT LEARN, you are not aware of it, you continue to live of the mediocrity that offers you what is worldly, you continue to live of what is superfluous and of all that which contaminates you.
YOU HAVE NOT CONSCIOUSLY GIVEN YOURSELVES TO AN ABSOLUTE CHANGE…,
YOU HAVE NOT MADE YOURSELVES WILLING TO A PROFOUND TRANSFORMATION…,
YOU HAVE NOT COMMITTED YOURSELVES IN SPIRIT AND TRUTH…,
STILL YOU CONTINUE TO BE OF THE WORLD…
I want to remind you that: "My Son will vomit the lukewarm ones from His Mouth." Make the decision, take the path of My Son, that is why I remain beside you, to bring My Words to your conscience, to remind you of the change to which you must open yourselves.
I call you to be true, to not act to be seen by your brothers and sisters but to act with a heart that is totally willing, with a mind and heart totally willing to be one in that great army to which I have summoned: "THE MARIAN ARMY."
Beloved children:
I invite you to pray greatly for Japan, it will suffer again.
I invite you to pray for Costa Rica, it will suffer.
I invite you to consciously pray for My Son's Church, it will be greatly punished. It will be devastated because of those who have abused of Her. My Heart aches because of it.
Beloved children:
Even though you do not hear My Calls, I will not tire of calling you to renew yourselves on the inside, to not continue being lukewarm but to make a firm and conscious decision.
THE INSTANT CEASES TO BE … AND IT HAS ALREADY PRECIPITATED OVER HUMANITY. I WILL BE A LIGHT THAT ILLUMINATES THE PATH, I WILL BE A WORD TO GUIDE YOU AND I WILL EXTEND MY HAND TO HELP YOU WHEN I YOU NEED ME.
Beloved:
YOU MUST CONSECRATE YOURSELVES IN THIS INSTANT, PERSONALLY AND AS A FAMILY, TO MY IMMACULATE HEART so that you who love Me and that have accepted Me as Mother in your lives fulfill what I have requested in My Calls.
I do not despise those who are small, the humble and simple. If you love Me, be love, remain humble and faithful to My Son. Do not be words that tear apart your brothers and sisters, on the contrary:
BE SILENCE, PRAYER AND LOVE. Man's enemy has neared humanity and has embedded envy and indifference in the heart of men, since by these it penetrates in him, reaching the mind, overcoming those who are Mine and separating them from Me.
Let everyone of you be a flag that waves on high. Radiate the love of My Heart before which the infernal enemy shakes.
THE BATTLE HAS BEGUN, IT IS BECAUSE OF THIS THAT I URGE YOU TO CONSECRATE YOURSELVES TO MY IMMACULATE HEART SO IN THAT WAY YOU ALLOW ME TO HELP YOU WITH MY LOVE.
Children, I love you, even those who do not love Me, or who not knowing Me, despise Me.
I received you upon receiving My Son.
How much lament! How much suffering you have forged for yourselves! And I here, from the depths of My Heart, invite you to be with Me…, but you remain indifferent to My Call.
I bless you, I love you.
Mother Mary
HAIL MARY MOST PURE, CONCEIVED WITHOUT SIN.
HAIL MARY MOST PURE, CONCEIVED WITHOUT SIN. HAIL MARY MOST PURE, CONCEIVED WITHOUT SIN.