Sunday, October 14, 2012
Message from Our Lord Jesus Christ
To His Beloved Daughter Luz De María.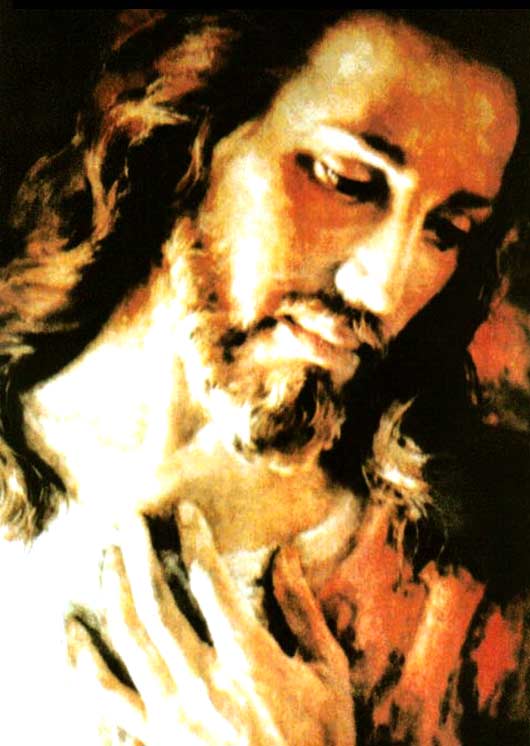 Beloved children:
I WAIT FOR EACH ONE OF YOU IN A SPECIAL WAY, YOU ARE MY BELOVED.
I INSISTENTLY KEEP YOU WITHIN MY CALLS BECAUSE I WANT YOU TO RETURN TO ME.
It is not darkness that weighs upon man, it is not fear that weighs upon man, it is that distance in which you find yourselves from Me that causes you to fear, to doubt or to make excuses.
WHOEVER REMAINS IN ME IS SURE OF MY HOUSE'S CONSTANT PROTECTION OVER HIM OR HER.
Who will you respect if you do not respect Me?
Who would you call Father if you do not call Me Father?
Is the one who lives immersed in sin a Temple of the Holy Spirit, the one who returns to Me only for instants and in a constant coming and going like the waves of the sea, ceding in this way his or her souls to the devil, in a horrifying lukewarmness? Can this person be a true and living temple of My Spirit?
MY PEOPLE MUST PREPARE URGENTLY AND PREPARE THEMSELVES SPIRITUALLY FOR A DEFINITIVE CHANGE FROM WHICH YOU WILL COME OUT TRIUMPHANT, YOU WHO LIVE IT IN SPIRIT AND TRUTH.
Unsurpassed instants of tumult and temptation are for those who still need to secure their faith in Me. MAN IS IN URGENT NEED OF A CHANGE, A RADICAL CHANGE IN HIS BEHAVIOR, A CONSCIOUS INTERNAL TRANSFORMATION, SINCE IN MY RANKS YOU MUST BE PREPARED FOR EVERY ATTACK. Not only must you walk on water or remain in the desert or multiply loaves, but you must first be willing and become aware once and for all, that you cannot turn away from Me. You must be the ones to want a very close relationship to exist between the human person and I, in which separation does not exist because I already paid the price for all.
I CALL YOU TO REMAIN WILLING AND ALERT, WITHOUT SLEEPING AND WITHOUT FORGETTING THAT THE ONE WHO DOES NOT KEEP WATCH, WILL NOT BE ABLE TO RESIST THE TRIALS.
You see the events as being so distant… and they are so close! And humanity continues in its pride, which leads you to the wrong path.
Man will lament and will weep his disobedience to My Word. It is difficult for you to digest the level of demand for those who follow Me… and you pretend to be among My ranks without transforming yourselves! My way was drawn so that you see not others, but rather yourselves first. Because the thirst of the spirit is more than physical thirst, food does not satisfy hunger, since it is more than physical hunger.
The absence of what is spiritual, the lack of knowing Me, of remaining in permanent union with Me, not having a conscience, not being willing before Me, that is what does not allow you to know Me as I am. What you know is a slight shadow of My Divinity. YOU FEAR DELVING INTO ME, SINCE YOU KNOW MY DEMANDS.
TIME FLIES.
As the eagle rides the heights and from them sees, recognizes and dives and takes its prey, such is the human being, only that it has forgotten that to be an eagle it must possess My gifts and these are not for those who do not deserve them.
Pray, beloved, for Jamaica.
Pray, pray for Japan, it will suffer.
Pray for Central America.
Children, you move in a rough land in which you must walk with utmost care, since the setbacks are continuous, with the end of discouraging you, but do not forget that by rising from each stumble you are winning battles.
I DO NOT ABANDON YOU, MY MOTHER DOES NOT ABANDON YOU, YOUR GUARDIAN ANGELS,
COMPANIONS OF JOURNEY DO NOT ABANDON YOU AND HEAVEN REMAINS ATTENTIVE TO YOU.
Only human hardness leads you to ignore My Greatness. I am just. My greatness is manifested in you, in each creation. It is not by begging that a person reaches the summit, but with firmness of disposition and an upright and just conscience.
Fish swim against the current like My children are mistreated by a society that despises Me.
DO NOT ABANDON MY PATH, BE MORE PRUDENT AND PREPARE YOURSELVES, FOR I WILL COME.
The roar of the volcanoes does not wait, the earth groans, man agonizes.
THE MAN OF FAITH REINFORCES HIS PATH WITH PRAYER AND HIS ACTIONS ARE THE PRACTICE OF HIS INNER LIFE. I DO NOT WANT HESITANT TESTIMONIES THAT EMBARRASS ME, BUT CHILDREN WHO PROCLAIM THE TRUTH OF MY WORD.
I bless you.
Your Jesus.
HAIL MARY MOST PURE, CONCEIVED WITHOUT SIN.
HAIL MARY MOST PURE, CONCEIVED WITHOUT SIN. HAIL MARY MOST PURE, CONCEIVED WITHOUT SIN.