Sunday, December 23, 2012
Message from Our Lord Jesus Christ
To His Beloved Daughter Luz De María.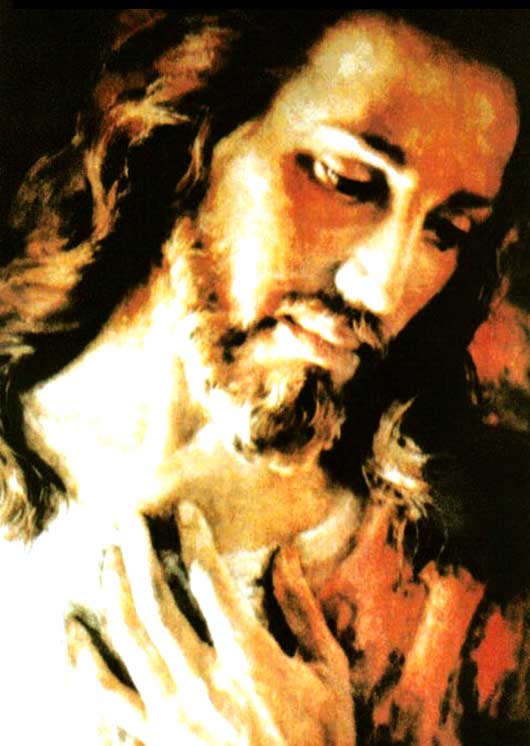 My beloved: dreadful
MAN WALKS ERRANT UPON THE EARTH…
MY MOTHER PILGRIMAGES IN SEARCH OF THOSE WHO ARE HERS TO BRING THEM TO ME, AND I SEARCH INSTANT TO INSTANT FOR THOSE LOST SHEEP, WHICH ARE THE DELIGHT AND EXALTATION OF MY HEART.
Humanity has become confused in its desire to come to know these coming and announced instants.
BELOVED, I REMAIN ATTENTIVE TO EACH ONE OF YOU, AND YOU PREVENT ME FROM LOVING YOU.
A comet will come and will shake the Earth.
The Purification will give no respite, the Earth will again be shaken… BUT I, ATTENTIVE TO ALL, WILL NOT ABANDON MY FAITHFUL, I CALL THEM TO CONVERSION.
Humanity is in a poor and deplorable state; it reads My Calls and without searching for their essence, YOU CALL THEM APOCALYPTIC, WITHOUT ENJOYING MY LOVE THAT WARNS YOU and tells you:
"Children, convert; I wait for you, do not wait until the end, be humble of heart and see how the refusal of the truth makes you not accept the signs that are clearer and more severe each time."
Children:
YOU REFUSE WHAT IS REVELATION AND HENCE DENY THE REALITY IN WHICH YOU LIVE, INCAPACITATED TO DISCERN IN THE FACE OF SIGNS THAT ARE IN NO WAY COMMON.
What My Mother has announced to you will be fulfilled. The announcements of war, terrorism and the slaughter of innocents will continue because of man's denial.
The Middle East, submerged in internal and external wars, will not stop until the antichrist comes.
My Church will be divided, it will be purified and then renewed. Help will come from Heaven itself for all My faithful.
THIS CHAOS IN THE THOUGHTS AND HEART OF THOSE WHO ARE MINE HAS CAUSED THIS INSTANT TO BE MORE CHAOTIC, SINCE THE MORE HUMANITY DENIES THIS INSTANT, THE MORE IT WILL SUFFER BY ITS OWN HAND.
I AM THE GOOD SHEPHERD AND YOU ARE MY FLOCK.
THE INSTANT URGES, MY CALLS ARE URGENT.
Pray for Japan, it will weep.
Pray for Mexico, it will lament.
Pray for Australia, it will weep.
The revelation of personal faults is near, and each human being will be astounded by his or her way of living and of his or her response as a child of Mine.
Children:
Do not continue to wander through the desert of what is worldly…,
BE TRUE WITH YOURSELVES SO THAT THE IGNORANCE OF THE HARDHEADED BE SURPASSED BY
THE TRUTH AND THE HUMILITY OF THE ONE WHO, KNOWING ME,
KNOWS THAT I AM THE WAY AND THE LIFE. I AM TRUTH AND INFINITE LOVE.
Do not fear, walk in righteousness. Do not fear, I do not leave you on your own.
With the innocence that radiated from My Heart when I gazed upon My Mother from the Manger, with that same innocence gaze upon and come to Me, asking what is necessary.
UNITE THIS DAY OF CHRISTMAS AT MIDNIGHT
AND PLACE YOUR SACRAMENTALS BESIDE A PRAYER BORN FROM THE DEPTHS OF YOUR BEING.
The moment will come when all of you will walk like true brothers and sisters, all children of the same Father, and you will be My People and I will be your God.
COME TO ME, KNOW WHAT MY MOTHER ANNOUNCED TO YOU.
I bless you, have My Peace.
Your Jesus.
HAIL MARY MOST PURE, CONCEIVED WITHOUT SIN.
HAIL MARY MOST PURE, CONCEIVED WITHOUT SIN.
HAIL MARY MOST PURE, CONCEIVED WITHOUT SIN.