Monday, January 7, 2013
Message from the Blessed Virgin Mary
To Her Beloved Daughter Luz De María.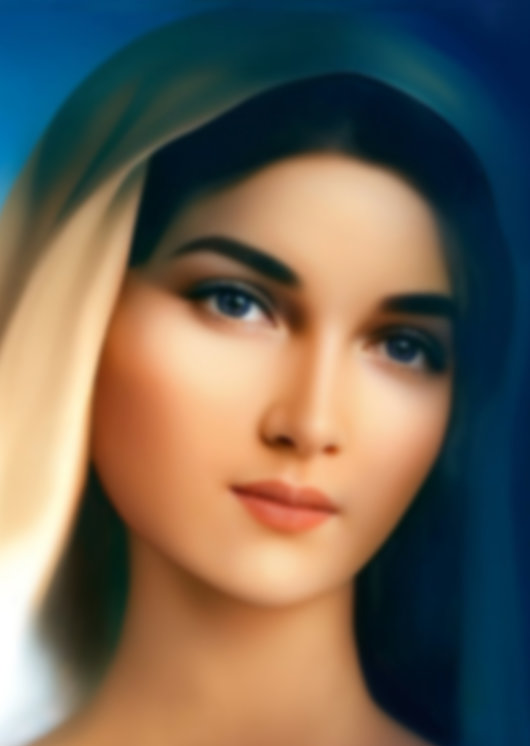 Beloved children:
HUMANITY MOVES IN AN IRREVERENT SILENCE TOWARDS LOVE, TOWARS PEACE,
TOWARDS MY SON AND TOWARDS ALL THAT REPRESENTS THE SPIRITUAL.
THIS GENERATION DOES NOT ABIDE COMMANDS AND DOES NOT WANT TO OBEY, BUT TO CONTINUE IN ITS FREE WILL.
My Son has given this generation so many opportunities and you have not known how to answer. Man's heart, filled with everything worldly and with all the hustle of coming and going, can no longer bear consciously remembering My Son's absence.
MAN IS CONSCIOUS OF LIVING DISTANCED FROM MY SON AND FROM HIS LAW AND THAT DISTANCE THAT HAS COME TO BE VOLUNTARY, PLEASES MAN.
How much Mercy scorned!
How many Calls nullified!
How much Love abandoned on the side!
My Son speaks to man continuously: in the air, in the sun, in nature, in each small detail that you, My children, have ceased to perceive. He speaks to you in the gesture of a brother or sister, in the loving smile of your neighbor, in the cloud, in the flower, in the water, in the silence, in this that is unknown to you: the silence.
The hustle and bustle is so much that it undermines the thoughts and mind of man, and has led him to descend, hardening his heart. That is why My Son speaks to you in silence and you do not know how to hear Him, since you do not know silence.
So much that is looming over this generation about which the Divine Will and My Love have informed you endlessly! But it would seem that this has no great significance before humanity, since you continue a life so distanced from My Son and so submerged in your own egoism, that you cannot hear, or see, or feel, or touch. You can only recognize the immediate, the worldly.
Beloved children:
LIFE DOES NOT CONSIST OF THIS…
IT IS NOT ONLY PASSING THROUGH THE WORLD FOR THE SAKE OF PASSING…
THE LIFE OF EACH ONE OF YOU HAS A GREAT DIVINE PURPOSE, IT IS A DIVINE GIFT….
But you have left it so distanced; equivocation continues, the duty that you have as children from on high it to be fully aware of it and willing to encounter the one who offered His Own Life for the salvation of mankind.
Love My Son in Spirit and Truth. Become aware that you are living tabernacles so that this Mother stops seeing tabernacles that are neglected, unrecognizable, forged with hands in which sin abounds. It is in these tabernacles where the Holy Spirit continually grieves and remains waiting at the door without being able to enter.
Through these Calls, some people have converted finding the Divine Purpose, Divine Love and have proposed to transform their lives. With sorrow I have seen the other face of human reality: These calls cause anger in some of My children, since they do not want to walk on the correct path, and they attack this Divine Word so that it is not spread, because they believe that in this way they will be able to overshadow the Divine Work.
My children:
IT IS NOT SO. MAN CANNOT STOP WHAT HAS BEEN DECREED IN HEAVEN FOR HUMANITY.
I continue to pilgrimage, assisting you as Mother, as sister and as friend… I have called you so that you are not lost and do not continue lost.
I SEEK YOU WITH TENACITY AND A CRUEL REALITY IS PLACED BEFORE ME:
MY CHILDREN EVADE ME SO THAT I CANNOT FIND THEM.
Poor decadent humanity! It has taken other paths different from those of My Son, since He asks you to enter and find the Truth, the Light and Your King.
Some of My Priests on occasions prefer not to confront the People so as to continue to be accepted by society, forgetting that those who walk in what is undue, will perish, and those who walk in Truth, will remain.
The Earth will move at high speed, so much so that its orbit will not be its orbit, nor its axis will be its axis. It will be so distanced from the Sun that it will be plunged into darkness for several days and pain and lament will be heard outside and in the depths of the Earth.
My beloved:
RETURN TO THE PATH, BE HUMAN, BE SENSIBLE, BE CHARITABLE, BE OBEDIENT, LOVE YOURSELVES AND YOUR BROTHERS AND SISTERS, PRAY WITH SINCERE PRAYER.
PRAY WITH ACTS AND WOKS.
How many millions of human beings, brothers and sisters of yours, die because of hunger, and so many perish by the hands of their own brothers and sisters, men and women!
War is a way for man to betray his most base ambitions. Never will war be an end, the only end is My Son's Love and His giving of Himself for you.
Science without God will not be able to give man anything spiritual, but on the contrary, ill-used science as it is found in these instants, will be the cause of the majority of humanity perishing. This ill-used science will reach the extreme that those few who remain on the Earth will feel they are alone upon it. The desire for power is so great, that the powerful turn to war as the last resort to exterminate what does not suit them.
WAKE UP CHILDREN, DO NOT CONTINUE TO BE IGNORANT, WAKE UP!
THEY HAVE PLUNGED YOU INTO ONE REALITY AND MY SON AND I CONTINUALLY CALL YOU SO THAT YOU WAKE UP TO THE TRUE REALITY.
Heaven uses all means to not lose you. Beloved, you do not need to be instruments of Heaven to use reason and clearly see the reality that you do not want to face.
My Son's House has chosen It's instruments and some in particular to be the Voice of alert, the Trumpet that awakens with its sound those who sleep in the profound lethargy. Do not continue to lie to yourselves, or accepting what has no acceptance, hiding what cannot be hidden, or calling good what is evil, or putting on masks of false appearances to accommodate error, the falsity, the lies and hypocrisy in which the majority of My children live in this instant.
My beloved:
Do not deceive yourselves, see the reality of this generation, see the youth how they are lost each instant, how they are plunged into a world that is not real, how they have encapsulated themselves in vices of every kind.
WAKE UP, CHILDREN, WAKE UP, DO NOT WAIT ANY LONGER!
THE EVENTS YOU WELL KNOW AND THAT HAVE BEEN ANNOUNCED WILL MAKE THEMSELVES PRESENT ON EARTH AND AMONG MEN.
I will remain with you as a Faithful Mother, as a faithful lover of Her children and defender of My Son's People; I will remain immovable.
WITH MY HANDS OPEN I WAIT FOR YOU TO RESCUE YOU, ONLY THIS RESCUE MUST BE DESIRED BY YOU WILLINGLY, SINCE MY SON IS GIVING, LOVE AND TRUTH.
I AWAIT YOU, MY HEART IS A TEMPLE OF THE HOLY SPIRIT AND IN HIM I AWAIT YOU, AS A TEACHER I WILL GUIDE YOU TO THE ENCOUNTER WITH MY SON.
My beloved, do not try to dodge your responsibilities. I wait for you as Mother and Teacher to guide you. MY SON COMES FOR HIS OWN, HE DOES NOT WAIT.
You remain in My Maternal Heart.
Receive My Blessing.
Remain alert with your lamps filled with oil so that the fire does not go out.
Call me quickly.
Mother Mary.
HAIL MARY MOST PURE, CONCEIVED WITHOUT SIN.
HAIL MARY MOST PURE, CONCEIVED WITHOUT SIN.
HAIL MARY MOST PURE, CONCEIVED WITHOUT SIN.