Wednesday, January 23, 2013
Message from Our Lord Jesus Christ
To His Beloved Daughter Luz De María.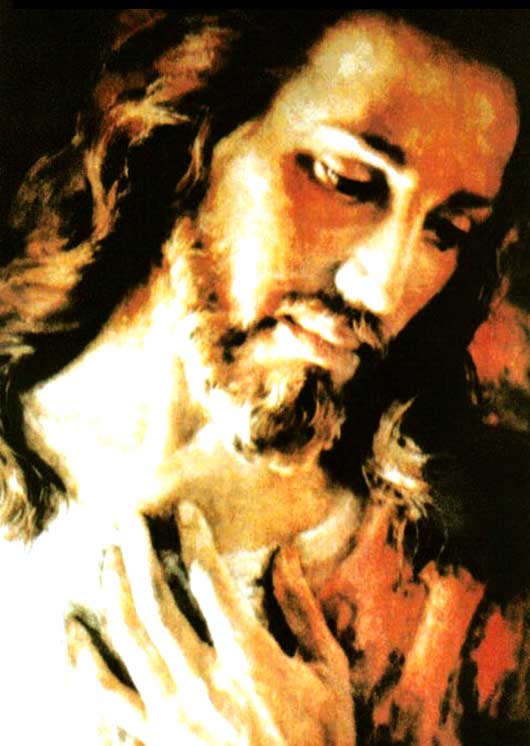 My People, My dearly beloved People:
For generations I have searched for you. From generation to generation I have searched for My faithful People… I have only found a Holy Remnant upon which I keep My Word for all of humanity.
IN THE MIDST OF SCORN AND SOLITUDE, IN THE MIDST OF PAIN AND WEEPING, MY WORD WILL CONTINUE UNTIL I RETURN DEFINITIVELY TO SEPARATE THE WHEAT FROM THE CHAFF.
How much love on My Part towards this sinful, foolish and disobedient generation! So disobedient that it has pretended to draw so near to Me, not out of love but to be able to reach My Omnipotence with the end of creating what is only a power of My Divinity.
You have hurt My Heart so much that it has bled so much because of My children's scorn towards the Gift of Life! How many innocent children moan because of abortion! How much love I keep in My Heart and how much must man suffer because of it! Not because I am a punishing Father, but because man must purify himself and liken himself to My Very Love, to My same Commitment and be a copy of My Divinity through his love for his neighbor.
My beloved People, the Earth is exhausted of bearing so much sin, the Earth has sickened before man's innumerable sins. Disobedience cracks the terrestrial globe and deforms it transforming the geography. How many things await My People! How much purification before My Second Coming! How much purification before being worthy of the help of your Heavenly Brothers!
My beloved, you have contaminated My Creation entirely, without measuring the pain and the famine you would cause yourselves… How much mutilation at the root of the use of science!
War has gestated slowly but advances surely towards you who live without perceiving what is occurring as if each instant were more time. NO CHILDREN…
I NEED YOU TO UNDERSTAND THAT TIME IS NOT TIME, THAT THE INSTANT HAS CEASED BEING AN INSTANT AND THAT YOU WILL BE PURIFIED LIKE GOLD IN THE CRUCIBLE.
I know well that I speak much to you of this…, but you do not understand because you have closed yourselves off from My Love; I have called you so much to be experts in love!… the rest I will give to you in addition. You do not understand because you have a heart of stone of which everything worldly has become master. But, do you forget that behind what is worldly the devil and his followers are found?
How you fall continuously in the clutches of sin, of what is improper!… and you injure Me.
How you have forgotten Me, how I lament before this pain human beings cause Me instant to instant!
MY MERCY REMAINS AND WILL REMAIN BEFORE THE ONE WHO SEEKS ME WITH A CONTRITE AND HUMBLED HEART, WITH A DECISION OF CHANGE AND OF TRANSFORMATION, OF OBEDIENCE AND OF PERSEVERANCE.
MY MERCY DOES NOT SPARE THE SEARCH FOR MY PEOPLE, SO MUCH SO THAT TO SMOOTH THE WAY IN THE INSTANTS OF TRIBULATION, I WILL SEND MY WORD THROUGHOUT THE ENTIRE WORLD, I WILL SEND MY WORD CONTINUOUSLY AND NO ONE WILL STOP IT.
I am in need of victorious People, of People who are heroes that do not fear in the face of adversity. I am in need of people who are heroes with consciences expanded and opened towards that which until now has remained hidden and forgotten, for you cannot call yourselves My children if you do not love Me in Spirit and Truth.
I give Myself to you, each one of you is My Tabernacle… and in which Tabernacle do I reside? I reside in that which is pure and that is willing to listen to Me to be transformed.
Beloved, I know well that what is worldly stalks you everywhere but this does not make it impossible for you to be committed to Me. I do not desire more excuses on your part. My Holy Remnant, enough of excuses - there is no time, the instant is worth gold and the gold of My Love has no price.
My beloved People:
Pray for one another.
Pray for the institution of My Church that will be greatly purified.
Pray for those who will close the doors of My Temples so that My children are not with Me. But they have forgotten that I dwell in everyone and the one who wishes it will continue to be My Temple.
My beloved People, I bless you:
I BLESS EACH ACT YOU CARRY OUT TO SPREAD MY WORD,
I BLESS EACH ACT YOU DO TO SHARE WITH YOUR BROTHERS AND SISTERS MY CALLS SO THAT THEY DO NOT
REMAIN HIDDEN BEFORE HUMANITY. EACH ONE OF THESE CALLS OF MINE CARRIES MY ESSENCE, MOVES HEARTS AND TRANSFORMS MY CHILDREN.
My People:
Pray for the United States, it will suffer.
Pray for Jamaica, it will weep.
Pray for Mexico, it will suffer.
MY PEOPLE, YOU DO NOT NEED ANYTHING ELSE BESIDES WILLINGNESS TOWARDS ME; I WILL DO THE REST.
YOU ARE MY CHILDREN AND AS CHILDREN I WILL NOT DESERT YOU AND I WILL PROTECT YOU CONSTANTLY.
From how many dangers I keep you instant to instant!
These are the instants that humanity awaited, the believing humanity, the Holy Remnant.
For those who love Me, the signs to do not wait: The Earth will be internally shaken, and it will also shake because of causes coming from the outside; but do not fear, for the Light of My Love remains with you.
I CARRY YOU IN MY ARMS, YOU DO NOT WALK, BUT IT IS I WHO FOR YOU, WALK IN THE MIDST OF PAIN.
I bless you, receive My Peace in the Name of My Father, in My Name and in that of My Holy Spirit.
My Peace, My Heart and My Love be in you.
Your Jesus.
HAIL MARY MOST PURE, CONCEIVED WITHOUT SIN.
HAIL MARY MOST PURE, CONCEIVED WITHOUT SIN.
HAIL MARY MOST PURE, CONCEIVED WITHOUT SIN.