Sunday, March 24, 2013
Message from Our Lord Jesus Christ
To His Beloved Daughter Luz De María.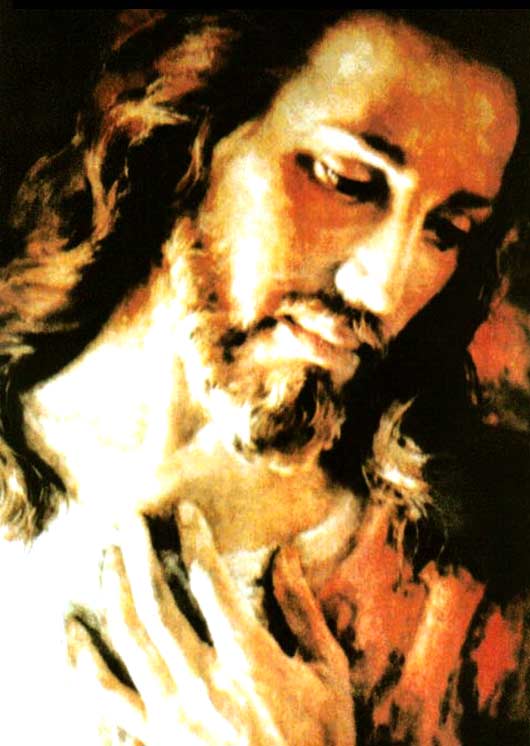 Beloved children:
WITHIN THE INFINITUDE OF MY LOVE EACH ONE OF YOU, MY FAITHFUL, IS A LIGHT THAT RISES FROM THE EARTH AND SHINES BRIGHTLY.
That is My very Love, which I seek unceasingly like a Beggar from heart to heart.
My beloved:
I ASK YOU TO ACCOMPANY ME BEING MY CYRENIANS IN THESE INSTANTS OF PERTURBATION OF HUMANITY, in which the enemy of the soul takes advantage of the spiritual ignorance of souls to make you stumble again and again until you are not able to get up.
MY CROSS IS THE CROSS OF HUMANITY, every instant it is heavier before the Purification arrives, as it was before reaching Calvary where My Love for humanity was accomplished, My Love for all, not for some, but for all.
MY LOVE DOES NOT EXCLUDE, BUT INCLUDES EVERY HUMAN BEING, WITHOUT EXCLUDING ANYONE.
At every instant I see you and I walk from mercy to mercy, until man himself does not give himself anymore opportunities, because of his free will.
My beloved, I am the one who arrived yesterday as a Meek Lamb to be devoured among mockery and spitting. The People that cheer Me today, will be the ones who hand me over into enemy hands tomorrow.
I was handed over to the Law, before the Sanhedrin…; in this instant My People will be handed over before the satan of nuclear energy.
On the morning of that Palm Sunday, you cheered Me and praised Me; in this instant you will mutilate and exterminate one another.
A timber was being prepared to be My Crib again, today that timber has been transformed into powerful weapons because of which My People will perish without any defense in the hands of the present-day Herods.
My People, where do you walk towards while your children devour one another?
My People, where do you head, if I dwell with My Holy Spirit in each one of My children?
CONVERSION REACHES HUMANITY, otherwise I would not be love. It comes from the hand of the crucible of the antichrist that will battle against My People; it comes from the hand of suffering and of mutilation, from the hand of famine and of solitude, from the hand of persecution and of the destruction caused by natural disasters, before an Earth that like man, wishes to renew itself.
In this instant of purification I need each one of you to live and suffer courageously your internal cataclysm and to give yourselves to Me so that you overcome the trial in fullness of consciousness.
Beloved:
Pray without ceasing, nourish yourselves from My Body and My Blood.
Pray for the Institution of My Church, possessed by the evil that attacks it from within, this evil being what impedes it from exercising its government with full freedom.
Pray for the United States, it will suffer as a victim of its own arrogance.
Pray children, pray for the Middle East and for Ecuador.
Beloved children, My beloved People, it is not yesterday that returns but man that brings his own purification; fruits are not gathered when they are still being formed. Nothing happens before its due time, everything has its time under Heaven.
EVERYTHING IS GOVERNED BY MY WILL AND MY WILL REMAINS IN A CONSTANT ROTATION OF LOVE TOWARDS YOU, FINDING FEW SOULS AWARE OF THE INSTANT IN WHICH YOU MOVE, AND TOWARDS WHICH YOU HEAD.
Sodom and Gomorrah were warned about how much they would suffer if they did not obey My Father. To today's humanity I point out the causes and effects of the ill-use of free will through this My Instrument, My Prophet.
The one who has ears let him hear and the one who does not, await what is coming: lament with lament and woe with woe! But all will depend on the hand and will of man himself before whom I arrived and was not recognized.
Beloved children:
MY LOVE REMAINS ATTENTIVE TO EACH ONE OF THOSE WHO ARE MINE,
THOSE WHO I CALL TO INVOKE MY MOTHER, THE FULL OF GRACE, ADVOCATE OF MEN, TEMPLE AND TABERNACLE OF MY HOLY SPIRIT.
My Mother, in whom My People will find refuge in the instants of pain, My Mother, the one who remained at the foot of My Cross like those who truly love Me.
MY BELOVED, YOU WILL HEAR TRUTHS UNFAMILIAR TO YOU, MY LOVE CANNOT HOLD THEM BACK, SINCE
THE INSTANT APPROACHES. ONLY FROM MY MOTHER'S HAND WILL YOU FIND ME AGAIN AND CONTINUE TO BE MY PEOPLE, THOSE FAITHFUL PEOPLE WHOM I LOVE SO MUCH.
I bless you upon beginning this Holy Week, I convoke you to not break away from My Redemptive Cross, to love one another and to not despise the one who calls you to good.
BE LAMPS THAT ACCOMPANY MY CHURCH IN EACH INSTANT WITH PRAYER,
WITH PENANCES AND WITH FASTING.
TURN AWAY FROM WHAT IS WORLDLY AND ENTER INTO THE SECRET OF THE HEART WHERE YOU WILL FIND ME AND WE WILL BE ONE, AS MY FATHER AND I ARE ONE.
I love you, I bless you.
Your Jesus.
HAIL MARY MOST PURE, CONCEIVED WITHOUT SIN.
HAIL MARY MOST PURE, CONCEIVED WITHOUT SIN.
HAIL MARY MOST PURE, CONCEIVED WITHOUT SIN.