Friday, March 29, 2013
Message from Our Lord Jesus Christ
To His Beloved Daughter Luz De María. Good Friday.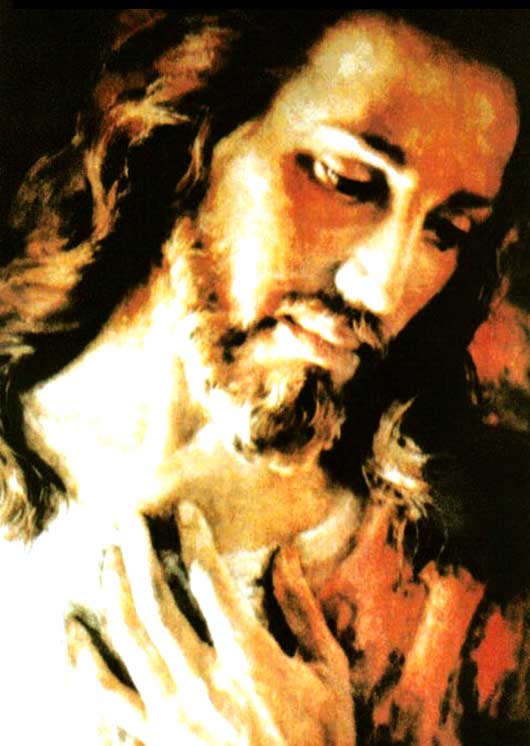 Beloved children:
YOU ARE THE FRUIT OF MY REDEMPTION, AND IT IS YOU WHOM I SEEK TO BE HEARD.
My beloved:
DARKNESS ALREADY APPROACHES, IT COMES TO MY PEOPLE AND WITH IT CONFUSION AND CHAOS.
Beloved, darkness is not only that which prevents you from seeing the light but goes beyond that; darkness blinds the mind, your thoughts, it does not allow you to reason and prevents you from being yourselves: My true children.
I AM HERE LIKE THE SUN THAT ILLUMINATES EVERYTHING.
SO AM I: ILLUMINATING ALL SOULS, WITHOUT REFUSING ABSOLUTELY ANYONE.
In this instant and in those that are coming I desire My children to lean on My Breast; listening to the desires of My Heart so that they walk, they move to the beat of My Heart. As My Heart beats, so let everyone be a reflection and beating of My very Heart that is nothing other than My very Will.
AH MY WILL THAT DESIRES TO MAINTAIN YOU AT MY SIDE, REPOSING AT MY BREAST, TAKING EACH OF MY TEACHINGS AND MAKING THEM LIFE IN THIS INSTANT OF CONFUSION BEFORE WHICH YOU ARE NOW!
I gave you the nets and more, I gave you the wedding-coins and more, I gave you My very Love so that with It you would live fully in this Creation of Love for you.
I DESIRE A CHURCH HOLY AS I AM HOLY. I DESIRE YOU BESIDE ME. DO NOT WALK, ALLOW ME TO CARRY YOU IN MY ARMS SO THAT YOU WALK SECURELY AND WITHOUT STUMBLING.
I desire a Church that is guided by the Love of My Mother for Me and for each one of you. I desire you beside My Mother at the foot of the Cross in every instant. Beside Her, beside the Full of Grace, beside your Advocate, beside the Mediatrix of all Graces, beside the Queen of Heaven, beside the Advocate of all men, beside the Queen and Lady of Creation, beside that Woman who not only gestated Me in Her Womb, but with Me and in
Me, each one of you; My Mother the pure one and without stain, My Mother… Beside Her I desire you, beside Her Guide, Your Example, beside Her who advocated for those who were less privileged, beside Her who saw to the most intimate details of those who are Mine so that I could take care of them. Or was it not She who interceded at Cana in Galilee, or was it not She who forgave in Her Heart in My Name and thus I also forgave in Her Heart?
Oh Jerusalem do not weep for Me, weep for yourself!
MY MOTHER, MY MOTHER DESIRES THAT EACH ONE OF YOU, MY CHILDREN, LOVE ME AND I CONVOKE YOU WITH ALL MY LOVE TO LOVE MY MOTHER.
HER IMMACULATE HEART WILL LEAD MY CHURCH TO OVERCOME AND DEFEAT EVIL.
I call My faithful People to not forget that they have a Mother and She is the symbol of My true children.
HERE BESIDE ME I DESIRE YOU TO RECLINE ON MY BREAST,
PENETRATE INTO INTERNAL SILENCE AND THUS YOU WILL BE ABLE TO HEAR MY VOICE.
Let nothing trouble you, children, My Mother remains with My People.
I bless you, I love you.
Your Jesus.
HAIL MARY MOST PURE, CONCEIVED WITHOUT SIN.
HAIL MARY MOST PURE, CONCEIVED WITHOUT SIN.
HAIL MARY MOST PURE, CONCEIVED WITHOUT SIN.