Sunday, June 23, 2013
Message from the Blessed Virgin Mary
To Her Beloved Daughter Luz De María.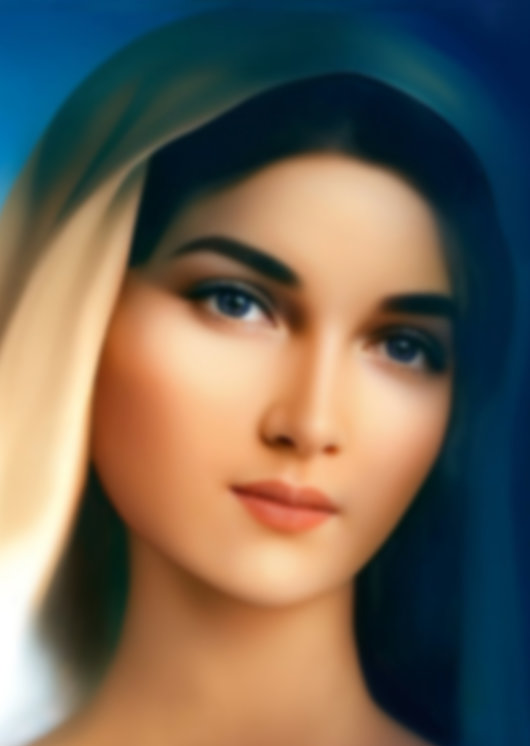 Beloved children of My Immaculate Heart:
REMAINING IN MY HEART IS A SURE REFUGE IN EVERY INSTANT.
Humanity is heading towards a safe harbor if you remain as My Son has asked you to remain, as true Christians. The testimony of each one of you is an answer to the questions of your brothers and sisters, who see you distanced from what is worldly, fighting to overcome temptations with the strength of Divine Love, with the power of personal prayer that takes you to give yourselves for your fellow man, and with the strength of a right conscience.
Those who live subject to the devil are the ones who give him strength to continue to flog them and winning souls for him.
MY CHILDREN KEEP FAITH IN A BETTER TOMORROW IN WHICH THEY WILL SHARE IN THE FREEDOM THAT MY SON GIVES AND THEY WILL AWAIT HIM JOYOUSLY, SURE OF HIS RETURN.
My Church continues to be fought, and My Priests will find themselves tempted… some will fall. But you, fight with My Holy Rosary, and do not lose faith in the midst of religious war.
The news will be discouraging and My Heart grieves because of it. The heavy cross will reach Peter's
Throne, betrayal will not wait, do not falter, be aware that contamination has spread, poisoning the hearts of men. That is why I have called you repeatedly to pray and remain in My Son so that you are not overcome by temptation.
THE ONE WHO IS CONSCIOUS OF MY SON'S LOVE IS WILLING TO CARRY THE CROSS…
THE ONE WHO DOES NOT LIVE FROM THE SPIRT, IS NOT. THIS IS THE REASON FOR WHICH SOME IN THE VATICAN PALACE WILL BE OPPOSED TO THE PROVISIONS OF THE POPE.
Pray for Japan, it will suffer and will spread a great pain to humanity.
Pray for Italy, it will be shaken.
Beloved, the Sun will cause humanity an unfortunate and painful affliction. That which covered man with its heat, it finds itself emanating that heat towards the Earth.
NUCLEAR ENERGY WILL BE THE GREATEST REAL DANGER THAT MAN HAS CREATED and that the Sun can detonate. The United States will suffer in this way. Pray, children, pray so that conversion arrives before this suffering.
COMMUNISM HAS GROWN IN STRENGTH, it expands stealthily disguised as goodness and false equity becoming the scourge of the weak Nations and tainting without being felt, enchaining without the chains being felt.
MY CALLS ARE CONTINUOUS, TURN YOUR EYES TO THE ANNOUNCEMENTS BEING FULFILLED, DO NOT REMAIN IN THE BLINDNESS THAT A DISTANT WORLD PRESENTS YOU WITH, A WORLD NOT CONSISTENT WITH THE DIVINE WILL.
The force of evil maintains My Children tied up and robs them of their good disposition, transforming them into inert beings, without strength to say no to what is incorrect.
YOU WALK TOWARDS GREAT TRIBULATIONS, THE ELEMENTS WILL CAUSE HARM EVERYWHERE.
Be lovers of My Son, in Him you will find the strength to continue standing.
YOU, FAITHFUL OF MY IMMACULATE HEART, DO NOT FEAR, YOUR NAMES ARE WRITTEN IN THE
BOOK OF LIFE, be aware of the seriousness of the instant, and at the same time, of the protection that I, as Mother of humanity, give to all.
YOU LIVE TO REACH A GOAL, WHICH IS HEAVEN: ETERNAL LIFE. My Son carries you in His Arms, like the Shepherd that cares for His Flock; each one of you is His beloved lamb, the apple of His Eye.
DO NOT FEAR, AFTER THE TRIALS WILL COME THE NEW DAY, THE DAY WHEN MAN WILL CEASE BEING A CAPTIVE OF EVIL AND WILL ENJOY OF THE DELIGHTS OF MY SON'S HOUSE.
Do not scatter, maintain the unity to which My Son has called you.
I bless you.
Mother Mary.
HAIL MARY MOST PURE, CONCEIVED WITHOUT SIN.
HAIL MARY MOST PURE, CONCEIVED WITHOUT SIN.
HAIL MARY MOST PURE, CONCEIVED WITHOUT SIN.