Thursday, August 1, 2013
Message from Our Lord Jesus Christ
To His Beloved Daughter Luz De María.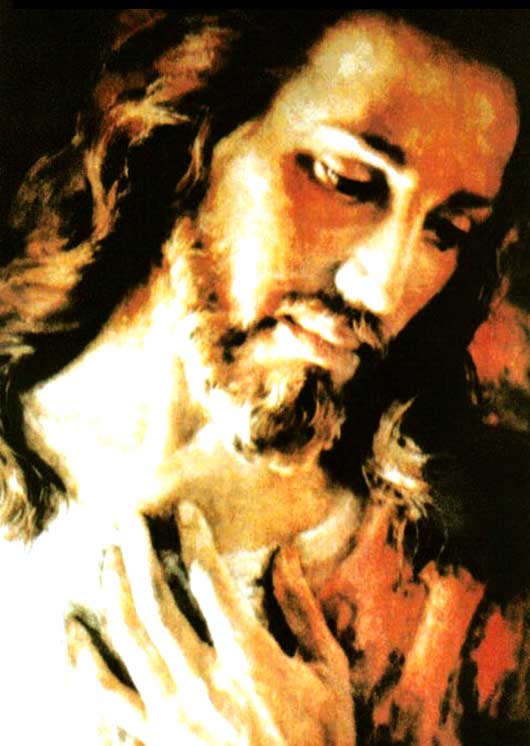 My beloved People, My children:
I WILL DEFEND MY PEOPLE. I WILL REMAIN WITH MY PEOPLE IN THE DIFFICULT INSTANTS… I WILL WALK BESIDE MY FAITHFUL.
MY CHURCH WILL REMAIN BESIDE ME, AND I WILL WALK WITH MY CHURCH.
Beloved children, you will live difficult instants. My Church lives instants of light, but it also lives and will live very tough instants, since satan's smoke has already entered My Church and has impoverished, poisoned and contaminated the heart of some of My Priest sons.
I ASK YOU, MY CHILDREN, FOR STRENGTH -- STRENGTH SO THAT YOU CONTINUE WITH FAITH, AND YOUR FAITH CONTINUES GROUNDED ON MY REDEMPTION AND ON MY RESURRECTION.
I love you, but you have allowed the smoke of evil to penetrate the thoughts, reason and heart of human beings; that is why you do not think, do not reason and do not feel. Every human creature must be committed to remain at My Side. THE ONE WHO DOES NOT FIGHT AND GIVE HIMSELF OR HERSELF FOR HIS OR HER BROTHERS AND SISTERS WILL NOT BE WORTHY OF HEAVEN.
My children:
HOW MUCH PAIN APPROACHES MY CHURCH! IT WILL BE SHAKEN FROM ITS FOUNDATIONS BUT IT WILL BE I WHO SUSTAINS IT WITH MY OWN HANDS SO THAT IT IS NOT DEMOLISHED.
I gave Myself for everyone on the Cross and for everyone I rose from the dead, so that the passage of your lives be a continuous Resurrection. That is My Will, but man does not carry it out rather he himself digs a deeper hole so as not to see Me, so as not to hear Me and not feel Me, since free will has taken possession of humanity, and has seized all aspects of the human being's life.
Evil's legions spread sin over the Earth, and that evil is received by those who live in total debauchery. I CALL YOU TO TURN TO MY LOVE, MY HEART, TO NOT FORGET ME, TO WALK WITH ME TO WORK AND ACT IN MY WILL.
My beloved:
How foolish is the man I call and invite to My Mercy… and he despises it.
How foolish is the one who before his brothers and sisters claims to love Me and shows himself knowledgeable in My Love and in My Commandments, and when no one is looking, he behaves like the most vile of human beings!
REMEMBER THAT I WILL VOMIT THE LUKEWARM. Before Me you cannot hide your actions. I call My children with My Merciful Love, I invite you to turn to Me very soon for in this very instant, darkness is even closer, at sight.
I do not want you to suffer more than is due.
HOW MUCH FOOLISHNESS FROM MAN BY NOT ABIDING BY MY CONSTANT CALLS!
HOW MANY HAND THEMSELVES TURN OVER INTO THE HANDS OF THOSE WHO ARE RAISING THE HOUSE OF THE SON OF SATAN!
HOW, MAN HIMSELF, OUT OF FOOLISHNESS, HAS BECOME A DEFENDER OF WICKEDNESS!
I left you My Commandments so that you practice them and make them life. And with so much pain I see how you discard them, and instead you welcome evil's advances and put them into practice! You welcome all kinds of freedom, deceiving yourselves.
MY CHURCH IS DEFENDED BY MY HOSTS; EVIL'S SMOKE HAS INFILTRATED IT.
THIS CHURCH OF MINE WILL SUFFER SO MUCH… IT IS DUE TO THIS THAT I CALL YOU INSISTENTLY TO INSTRUCT YOURSELVES IN THE SPIRIT,
TO RECEIVE MY BODY AND MY BLOOD AND TO KNOW MY COMMANDMENTS SO THAT YOU DO NOT DISRESPECT THEM OR VIOLATE THEM.
My beloved People:
HOW MY HEART LAMENTS SEEING YOU WANDERING IN THE MIDST OF THE DESERT OF PLEASURES AND VEXATIONS! HOW MY HEART LAMENTS SEEING YOU UNABLE TO FIND ME!
My People, you well know that I will not leave you, but you well know that My Love for you gives you the freedom to choose, before which man will suffer his own decision so that this way, he amends his life.
You face an earthly power that claims to possess truth, you walk every instant by the hand of those who have obtained great achievements in science and have been able to penetrate the mind of the naive and gullible; THAT IS WHY IT IS NECESSARY THAT YOU REINFORCE THE SPIRIT SO THAT FAITH GROWS MORE, AND ONLY THE ONE WHO LIVES IN ME ATTAINS THIS.
My beloved, YOU WILL NOT GET AHEAD IF YOU DO NOT WELCOME MY CALLS AND THOSE OF MY MOTHER. What She announced in Her Apparitions will be fulfilled; you must pray and ask for the intercession of those Holy Souls that remain willing to intercede for you. It is necessary that you ask for the intercession of the Saints. They, with their lives, marked a new path for you, but you must ask for their help, otherwise, They, My Mother and I respect the freedom humanity enjoys.
My People:
How much I have cried for you and how much I suffer seeing you suffer continually!
I HOPE YOU LET ME DWELL IN YOU TO GIVE YOU MY LOVE AND MY MERCY…
NO CHILD OF MINE THAT CRIES OUT FOR MY MERCY WILL BE DRIVEN FROM MY HEART.
My beloved:
I invite you to pray hard for My Church, the detractors have entered It.
I invite you to pray consciously for the conversion of sinners.
I invite you to pray for Japan.
You, My children, who know well the evil man causes himself, creating indescribable scourges in laboratories, remain attentive for an uncontrollable plague emerges from a laboratory. The Untied States will live instants of uncertainty.
MY CHILDREN, BELOVED PEOPLE, COMPLY WITH MY CALLS, I REMAIN IN YOU.
With love.
Your Jesus.
HAIL MARY MOST PURE, CONCEIVED WITHOUT SIN.
HAIL MARY MOST PURE, CONCEIVED WITHOUT SIN.
HAIL MARY MOST PURE, CONCEIVED WITHOUT SIN.