Friday, January 31, 2014
Message from the Blessed Virgin Mary
To Her Beloved Daughter Luz De María.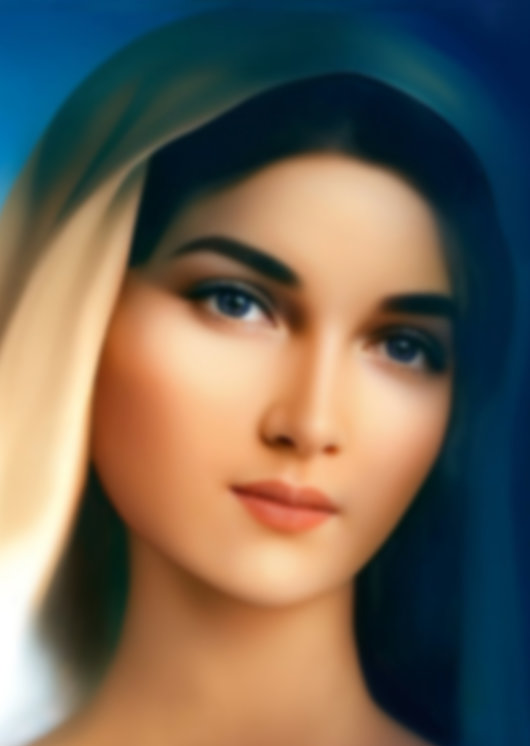 FROM THE DEPTHS OF MY IMMACULATE HEART
I EMANATE MY LOVE TOWARDS MY SON'S PEOPLE.
My beloved People:
I CALL YOU AGAIN TO REMAIN ON THE STRAIGHT PATH, ON THE PATH OF OBEDIENCE, ON THE PATH OF THE LOVE OF THE CALLS OF THE FATHER'S HOUSE.
DO NOT FEAR, DO NOT FEAR FOR KNOWING THE COMING EVENTS, FEAR OFFENDING MY SON, FEAR NOT BEING FAITHFUL, FEAR NOT LOVING MY SON.
I, as Mother of humanity, extend My Hand towards you to intercede for each one of you. I intercede before My Most Holy Son so that you find the strength necessary to announce and make public what is coming, to announce and make public what is in accordance to the Trinitarian Will and denounce that which does not march in accordance to the Trinitarian Will.
YOU RECEIVE THE DIVINE WORD, YOU RECEIVE MY WORD BY THE WILL OF THE SACROSANCT TRINITY AND YOU MUST BE THANKFUL FOR THIS FOR HEAVEN DOES NOT ACT WITHOUT WARNING OR WITHOUT ALERTING ITS OWN, PRECISELY BECAUSE IT LOVES THEM.
Man's journey has been painful and that was not the Father's aim upon creating man in His image and likeness, but man in his vileness and in his continual rebellion in all ages and in all the centuries of human history, he has continued to rebel against the Father's Will, and acting and working with his own "ego." That has led every generation to suffer the purification of body and soul.
Beloved children of My Immaculate Heart:
THE EVENTS THAT DURING MANY AND MANY INSTANTS I HAVE ANNOUNCED TO YOU,
WILL BE FULFILLED WITH GREATER EMPHASIS IN THIS AGE THAT MOVES TOWARDS THE END AND THUS TO THE SUCCESSION OF FACTS AND EVENTS THAT YOU WELL KNOW.
The volcanoes are the breathing of the Earth that keep incandescent heat in their bowels, and this, this incandescent heat will be spilled, and with it the emanation of harmful gases will not wait and will run through the slopes of great volcanoes feared by man, but for which the instant to awaken has arrived, precisely to accelerate the purification of all of humanity.
You, children, in every work and act elevate yourselves towards the heights like lamps that burn, or you sink in the abysses with the darkness that advances over the Earth…
You, children, are a beacon that gives light to the Earth or are darkness that blackens still more the soul of the human being…
YOU HAVE KEPT SO MUCH INDIFFERENCE TOWARDS "EVERYTHING" THAT IS HAPPENING AND THIS "EVERYTHING" IS:
THE INDIFFERENCE TOWARDS THE DIVINE SIGNS ALREADY ANNOUNCED AND PROPHESIED ACROSS
ALL GENERATIONS; NOT ONY THE LAY MAN DISOBEYS,
BUT AT THE SAME TIME THOSE WHO HAD IN THEIR HANDS THE DUTY OF MAKING MY THIRD SECRET AT FATIMA KNOWN DISOBEYED… AND THAT DISOBEDIENCE CONTINUES...
How much more open would be the faithful knowing about the Truths of the Divine Powers that move within human beings! Man is not only flesh, man is a vase of election of the Holy Spirit and with Him, one who possesses great Gifts that he does not know because all that which seem Divine, is and will be discarded.
My beloved, listen to My Prophet, do not waste the Word sent by Heaven through her.
I bless you continually and invite you to prayer.
How much pain hovers over the Earth! How much darkness invades the atmosphere! But outside terraqueous globe …. OUTSIDE THE EARTH, YOU WILL FIND SCORES OF HEAVENLY BEINGS READY TO HELP YOU. YOU ONLY NEED CRY OUT FOR THEIR HELP AND THEY WILL COME TO YOU.
Beloved children of My Immaculate Heart:
Do not be dazed, but it is necessary to deepen in the great harm that nuclear energy occasions and of the great harm it will cause the entire Planet and above all to man, child of God. Everything in the Universe, everything has life, because the Father is Life.
MY CHILDREN, TURN TO MY SON IN THE CONSECRATED HOST.
Beloved children of My Immaculate Heart:
Darkness advances over the Earth ruthlessly, and this darkness will continue to disturb the mind of men in such a way that man will cease to think; he will be commanded simply by a microchip that will transform him into an inanimate being and like a puppet, he will be used by those who are great and powerful.
I invite you to pray greatly for My beloved Land of Argentina.
I invite you to pray fervently for Costa Rica, it will suffer great trials. I invite you to pray for Spain, it will suffer and suffer.
My Son's Church will be shaken in its foundation.
You, My Son's beloved People:
DO NOT SUCCUMB BEFORE THE TRIALS BUT STRENGTHEN YOURSELVES AND KNOW THAT WHAT COMES TO YOU IS A NEW ACT OF MERCY FROM MY SON TOWARDS THE HUMAN BEING.
Do not forget: communism is seizing power in small countries with the end of seizing the greatest number of countries possible. Be conscious that this is a great arm of the antichrist, but a supreme blessing will descend from Heaven, not only for you, but for all of humanity. Trust in My Word.
My children, I invite you to pray for England, the acts of terrorism will not wait, and that, the man of good will already perceives.
The wind will go throughout the Earth in such a way that it will howl because of its speed, not giving man time.
My beloved, IT IS THE INSTANT OF THE TRIBULATION, BUT A LOVING TRIBULATION FROM THE FATHER FOR THOSE WHO ARE HIS. I will remain, not behind My Son's People, but behind those who reject My Son and continue offending Him without ceasing.
YOU, MY FAITHFUL, WALK IN PEACE, WITHOUT STUMBLING. KNOWING WELL THE COMMANDMENTS OF GOD'S LAW, YOU WILL WALK WITH SURE STEPS AND WITHOUT DECLINING.
I bless you: in the Name of the Father, of the Son and of the Holy Spirit. Amen.
Mother Mary.
HAIL MARY MOST PURE, CONCEIVED WITHOUT SIN.
HAIL MARY MOST PURE, CONCEIVED WITHOUT SIN.
HAIL MARY MOST PURE, CONCEIVED WITHOUT SIN.