Sunday, March 16, 2014
Message from the Blessed Virgin Mary
To Her Beloved Daughter Luz De María. Given in Puerto Rico.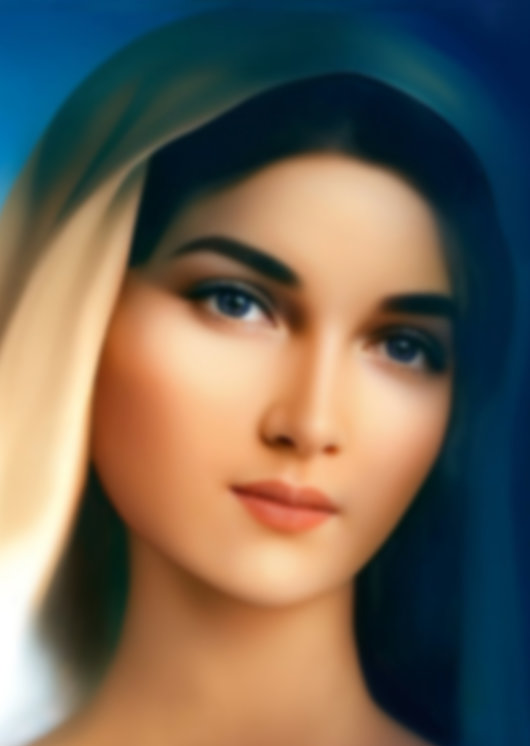 HAIL MARY MOST PURE, CONCEIVED WITHOUT SIN.
Beloved children of My Immaculate Heart, I bless you.
I HAVE COME TO YOU TO BRING YOU MY WORD AND MY LOVE…
Where are you going, humanity?
Where are you headed, alone and abandoned, without My Son's Love and despising this Mother's Love? Why do you not heed My Calls?
Will it be that you will not lift your gaze to Heaven until you are totally undermined by satan's very clutches… until you drag yourselves through the earth?
Beloved children, to you, to you do I cry out, to those who say they love Me, to those who feel they love Me, to those who constantly give themselves to My Son and to Me; to you do I cry out so that you awaken in this instant and not wait for another instant.
Children:
HUMANITY SUCCUMBS IN THE BLINK OF AN EYE BEFORE THE HANDS OF THOSE WHO USE THE POWER THAT HAS BEEN GIVEN TO THEM BY YOU YOURSELVES, THEY CUT THROUGH LIMITS THAT MAN CAN STILL NOT EVEN IMAGINE.
The suffering for humanity is ALREADY at the door, and all those who proclaim themselves My children must be obedient to My Son's Calls and to My Calls.
I suffer, yes, I suffer as Mother of Humanity; I suffer for those who love Me and I suffer for those who do not love Me. All are My children, and I intercede for all constantly.
My beloved, the great darkness approaches Earth and man in his ignorance will say that the phenomenons of Nature are exhibiting themselves, but it is not so, it is on the contrary; Nature is casting its implacable power over all the Nations of the Earth.
THE PURIFICATION DOES NOT WAIT, and…
Woe to those of My children who wait until the last instant to convert! Because everything will happen without warning, it will arrive without being expected and those who wait until the last instant will not have it, because before the harshness of the Purification, crying out for mercy will be forgotten by man, who will already be extremely fearful in the face of what he sees.
Children, the Sky will burn, both the Earth along with the Sky will burn seeming to be one; and only those, those who have consecrated themselves to My Immaculate Heart, AND ONLY THOSE WHO LIVE COMMITTED TO THE DIVINE WILL, ONLY THEY WILL BE LIGHTS WHO BY THE TRINITARIAN WILL, REMAIN HERE ON EARTH TO GUIDE THE HOLY REMNANT.
My beloved People, where are you headed? To the cliff…, sunken in what is worldly and sinful?
I ALERT YOU, I WARN YOU AS A LOVING MOTHER, AND YOU SCORN MY CALLS.
Woe to those who deny My Son's Word!…
Woe to those who deny My Word!…
Woe to those who, trying to dispel this Truth I transmit to you, insult and slander My true instruments!
Pray, My beloved, pray for Spain, water will purify it.
Pray, My children, pray for the Middle East, pain will wreak havoc, war does not wait.
MY PEOPLE, MY BELOVED, WHOM I RECEIVED AT THE FOOT OF MY SON'S CROSS, FOR YOU, FOR YOU DO I COME TO OFFER MY INTERCESSION BECAUSE I DO NOT WANT ANY ONE OF MY CHILDREN TO BE LOST.
Oh giant who has taken into your hands humanity's destiny, you will blow and will knock down My children, those who still remain lukewarm!
Oh giant who has risen and has been born of man's ill will!
Oh nuclear energy, scourge of the Nations and of humanity, how My children will suffer because of you![5]
I call all those who, in one way or another, have been participants in the creation of this great monster, of this scourge, of this very great sin, that is nuclear energy. I call those participants in it to fall on their knees and look to the heavens; repent, for you yourselves have no notion of the devastation that you will cause, of the pain and of the havoc you will cause for all of mankind.
Oh man of science who have separated yourself from the true path, how have you dared to use the good with which God has provided you to massacre millions of innocents?
Pray, My People, pray for the great Nations so that My Son's Hand is able to soften the hearts of the leaders and they change their mind.
My beloved People:
REMAIN ALERT, DO NOT NEGLECT EVEN AN INSTANT IN THE EXISTENCE OF YOUR LIVES, FOR THE ENEMY OF MAN, SATAN,
HAS RUSHED AND WILL RUSH EVEN MORE WITHOUT MERCY AGAINST MY SON'S PEOPLE.
TURN TO ME, I will keep you beneath My Lap, My Mantle will be salvation for you and My Womb is a Tabernacle in which all those who have faithfully committed themselves to My Son remain.
DO NOT FEAR MY SON, FEAR A MERCILESS AND INCONSTANT MAN, fear the man of power who will not wait to demonstrate his strength before all of humanity.
DO NOT FEAR MY SON, DRAW CLOSER TO HIM, COMMIT YOURSELVES TO HIM AND ENTER INTO MY MATERNAL WOMB, for My Womb, as a Sanctuary for each one of you, only waits for you to willingly enter it so as to shelter you.
THE ONE WHO CRIES OUT WILL NEVER BE ABANDONED.
MY LEGIONS WILL DESCEND TO PROTECT THE FAITHFUL.
I bless once again this place that cradled Me, I bless each one of you, and from here, I bless all of humanity.
Continue to obey and prepare yourselves, for the flesh is weak and you must not allow it to separate itself from My Son.
I REMAIN HERE BEFORE EACH ONE OF YOU…
MY CHOSEN ONES, MY BELOVED, BE CONSCIOUS THAT TIME IS AN INSTANT, AND THAT MY SON IS THE LORD OF ALL THAT EXISTS.
Do not lose heart, walk firmly and with haste, without obviating any of My Cries directed to you.
I bless you, I remain before you, merely give Me your hand.
I intercede before My Son for you in this instant, for you whom I have brought into My Heart, to this Place of Mine.
HAIL MARY MOST PURE, CONCEIVED WITHOUT SIN.
HAIL MARY MOST PURE, CONCEIVED WITHOUT SIN. HAIL MARY MOST PURE, CONCEIVED WITHOUT SIN.