Sunday, August 3, 2014
Message from Our Lord Jesus Christ
To His Beloved Daughter Luz De María.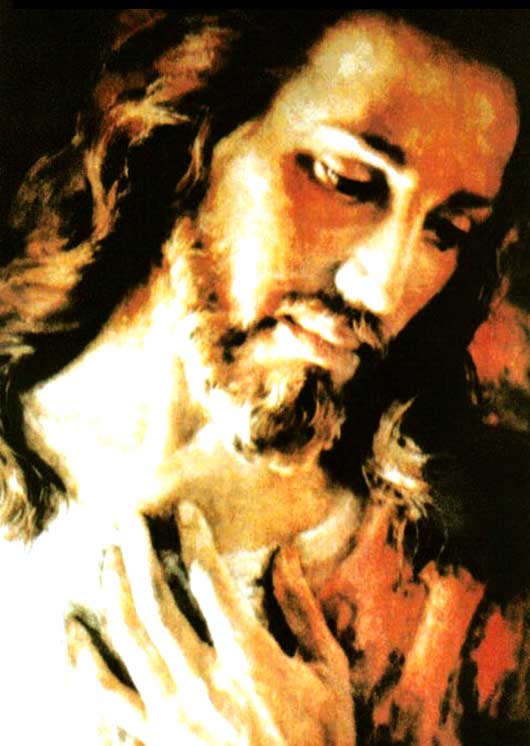 My beloved People, I bless you.
Man did not desire to see himself beyond where his sight reaches. By human will, he confined himself to live from what is immediate and from what he can perceive with his senses.
Man did not desire to go beyond, to the inner Temple to meet with his Jesus, with the exception of those souls who have shown that I remain within reach of My children's hand, in hopes that you come to Me.
MY WISH IS FOR MY CHILDREN TO LIVE AWARE OF THE SPIRIT THAT ANIMATES WHAT HAS BEEN CREATED, ESPECIALLY MAN WHOM I ENDOWED WITH WHAT HE NEEDS TO DEVELOP IN HIMSELF THE POWERS OF THE SOUL.
Humanity, by walking hastily without direction or sense, will come to find itself in a habitual state of suffering, a torturous path on which it knew in advance it would come to find itself, if it did not obey the changes that My Mother had asked of it.
My beloved:
Men fight for an earthly power, this clearly denotes that they have not understood Me… Man continues to be of the flesh, with the limitations this implies…
YOU MUST BE BORN OF THE SPIRIT, LIVE SPIRITUALLY…
ONLY THUS WILL YOU NOT OCCUPY YOURSELVES IN HOARDING TREASURES ON EARTH, WITH FRUITLESS ACTIVITIES, TURNIG AWAY FROM ME.
I wait for each one of you with patience, with Divine Patience and I see those who are Mine being negligent in fulfilling the Commandments of My House, acting against their own nature and against My
Spirit.
Children, you lose your reason very easily, exceeding extremes that are nearly impossible for Me to narrate, for you crucify Me mercilessly.
Children, you are slaves to anger, oblivion, dehumanization, personal gain and to the indifference with which you see the suffering of others and are not moved.
Humanity has misinterpreted its permanence on Earth, wrongly feeling it is the absolute master, it remains in repeated wars and divisions, inquisitions and hatred, under which it will never find peace, or understand the Truth of its permanence on Earth.
I DID NOT COME TO CONDEMN BUT TO SAVE; MAN WITH HIS FREE WILL
IS THE ONE WHO CONDEMNS HIMSELF OR FINDS THE SALVATION THAT I OFFER HIM.
Before an individualized man, the outcome will not be anything other than the one you know.
I HURRY SO AS NOT TO LOSE YOU WHO BELIVE IN ME.
Man has lost love; it is exiled from the Earth, and those who remain in My Love enclose it like a treasure so as not to lose it before men who launch themselves against human beings who possess it.
Beloved, man has come to hate My Love and those who live in My Love; so much so that man rebels against the smallest sign of love before him.
Living sunken in materialism has led humanity to not want to be loved, but scorned. How many of those who gave their life for Me and continue to give their life for Me, gave and give witness of this! Man without love, scorning love, sees his neighbor as an enemy, whether it be his father, mother, brother or sisters, child, husband or wife; whoever does not recognize love, does not recognize Me.
ALL OF CREATION SHAKES BEFORE HUMAN INDIFFERENCE, you have created a wall; man houses himself in insensitivity upon seeing the events without any feeling whatsoever.
THE EARTH CRIES OUT TO ME BEFORE SO MUCH PAIN THAT MAN SHEDS UPON HER; man is unknown before Creation for not living in My Will, and for living contrary to My Commandments.
Beloved:
Pray for the Middle East, from there the war the will expand through the Earth will be born.
Pray children, for the United States; it fosters pain and the pain will return against it.
Pray for Japan, the earth shakes.
Pray for Chile.
CHILDREN, VISIT ME IN THE TABERNACLE, FEED YOURSELVES WITH THE EUCHARIST, PRAY THE HOLY ROSARY TO MY MOTHER, BE MY VERY LOVE EVEN IF YOU MUST TURN THE OTHER CHEEK FOR
IT.
I will not abandon you, My People will not be abandoned by My House; I will send My very Love to protect you, to gather My People.
I will examine each one of you in particular and then I will move the moon away so that in the midst of darkness, man does not cause himself more harm.
Unite in My Love, know Me. Gather in My Name, My Church must be protection for the weak and innocent, just as I was so.
I WILL SEND MY LEGIONS FOR MY FAITHFUL, I DO NOT ABANDON YOU.
THE INQUISITOR OF MY PEOPLE PREPARES HIS PRESENTATION BEFORE HUMANITY.
Children:
KNOW ME SO THAT YOU ARE NOT CONFUSED.
BE INSTRUMENTS OF MY UNITY, DO NOT CAUSE DIVISION, BE MY VERY HEART, ONLY THUS WILL YOU BE PARTICIPANTS IN THE CULMINATION OF MY WILL.
Beloved children:
After the crucible the new day arrives, in which My Love will shine in fullness over the new Earth. My Peace be in each one of you, My children.
Your Jesus.
HAIL MARY MOST PURE, CONCEIVED WITHOUT SIN.
HAIL MARY MOST PURE, CONCEIVED WITHOUT SIN.
HAIL MARY MOST PURE, CONCEIVED WITHOUT SIN.