Sunday, February 8, 2015
Message from Our Lord Jesus Christ
To His Beloved Daughter Luz De María.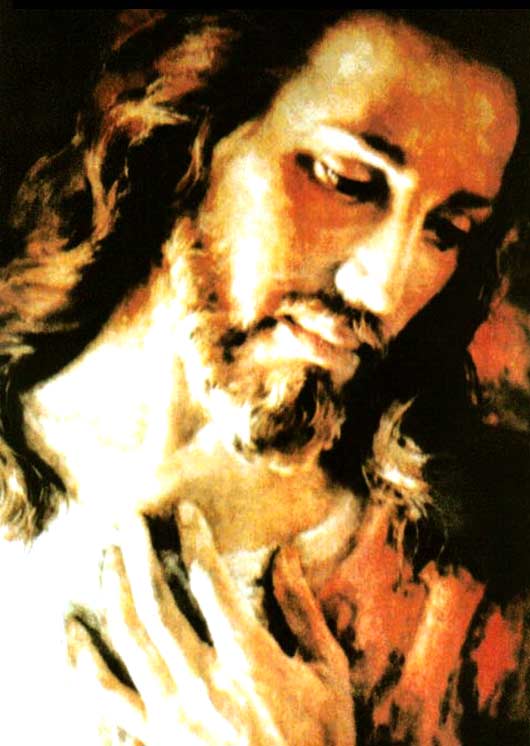 My Beloved People:
STOP FOR AN INSTANT AND LISTEN TO MY CALL.
You are My People, whom I love and for which I surrender to redeem you from sin.
Man made to the image and likeness of Our Divinity, is mindful of his real dominion of all created. As I am Holy, from My Side stems My Holy Church, so that all My children will know Me, and be one with Me as My Father and I are one.
My children must not remain on Earth without awakening to the desire of unity with Me to which I call you.
My People listen to Me, each one in a personal encounter in which I speak and My children listen, and agree with Me that if you do not fulfill My precepts, you are not truly Christians.
THE GIFT OF LIFE IS SACRED, NO CREATURE CAN MAKE AN ATTEMPT AGAINST LIFE, AND IN THIS INSTANT I AM CROWNED WITH THORNS TIME AND AGAIN, constantly, because My People have not been able to wait with patience and faith; you have surrendered into the hands of false idols that have taken you to perdition. By ignoring the tentacles of evil, you have fallen into the claws of the enemy of the soul, and evil has diverted the righteous use of human intelligence that makes man a creator, not only for good, but pretends to create life, creating a Tower of Babel, and moving away farther each instant from My Will and closer to its own destruction of life.
I COME TO DEMAND CHANGE, CONVERSION AND LOVE, SO YOU CAN SPEAK ABOUT FAITH.
I come for those who love their neighbor as themselves, for My true children, who are not disguised, but live expressing spiritual compassion and with them also the souls that love Me and love and feel the pain of their brothers.
My beloved People:
It is the instant of courage, not through fighting; massacring your brother, but it is the instant of courage to proclaim My calls, warning your brothers of what is coming to this generation. Beloved, do not forget that whoever acts upon their self-interest will continue saturated in their "ego", increasing the poverty of unawareness. I call you to live in a constant Christian practice, where your neighbor is the reflection of My Love and My Presence.
Warn your brothers, without fear or obstacles according to My Volition, in this instant in which the demons hurled themselves diverting the souls to commit the most terrible abominations. My Children, My Mystical Body, My Church will strongly suffer in the hands of those who, besieged by evil rage, they have blocked you from within. I will act with My Divine Justice, upon those who divert My People, deny the existing evil, are content with luxuries that come from My Altar, and they thwart My Word and spurn the poor and the hungry. My Church is not a Church of mundane luxuries, but to shepherd My Flock, it is not a Church of conflicts but of unity. My Church does not exclude the poor, the hungry or the needy; My Church feeds the hungry and as a Mother, teaches My Law, and with My same Love steers My People to conversion.
Beloved children, come to Me, I wait for you patiently to unite you with My Volition. My Reign is for each one of Mine, it is not reserved for a small number of men, but for all who live and fulfills the Will of My Father.
My Law does not shift according to the instant or human interests, My Law is one and it is written down. My Love does not change, it is the same yesterday, today and always… I just need the conversion of My children.
My Beloved People, the Earth groans with labor pains.
+ for the blood it receives from so many innocents,
+ for the deception of communism,
+ for the hidden control of the freemasons,
+ for the power of the god money,
+ for the lie and deception in which My faithful People are absorbed in.
All Creation fulfills My Will, fulfills the function to which it was created. Man, who disobeying My Law, follow other men and puts me aside. Acts with pride and anger, scorn My calls, keeping away from Me and surrendering into the hands of Satan to become part of the people of the imposter: the antichrist.
I AM BETRAYED BY MY OWN, THEY HURT ME, BLASPHEME AGAINST ME, THEY HURT ME, THEY
MOCK MY REAL PRESENCE IN THE EUCHARIST, THEY OMIT THE SACRAMENTS, THEY MOCK THE CONFESSION OF SINS, THEY COME TO CELEBRATE THE EUCHARIST OUT OF HABIT OR TO SECURE A PLACE IN THE COMMUNITY.
The economy, the god of man, falls by the decision of the manipulators of the world.
OH, OH, OH, when My Hand falls upon those who have usurp My Name!
Pray My People. Whoever doesn't pray is not true, it is a light varnish with no strength to resist the great attacks that will come.
Pray children, for My Church, will suffer unexpectedly,
Pray children, the Earth trembles, My children suffer, and the volcanoes will be an obstacle so man will move from one place to another.
Pray children, evil encourages war, which grows rapidly.
My People, My People!, I am with each one of My faithful, do not be afraid, trust in My help. The Blessing descends from My House; My Word is living water that will renew man through the Presence of My Love for My children.
"I AM WHO I AM". I AM YOUR GOD.
My Blessing descends upon you.
I love you.
Your Jesus.
HAIL MARY MOST PURE, CONCEIVED WITHOUT SIN.
HAIL MARY MOST PURE, CONCEIVED WITHOUT SIN.
HAIL MARY MOST PURE, CONCEIVED WITHOUT SIN.