Wednesday, April 8, 2015
Message Given by Our Lord Jesus Christ
To His Beloved Daughter Luz De María.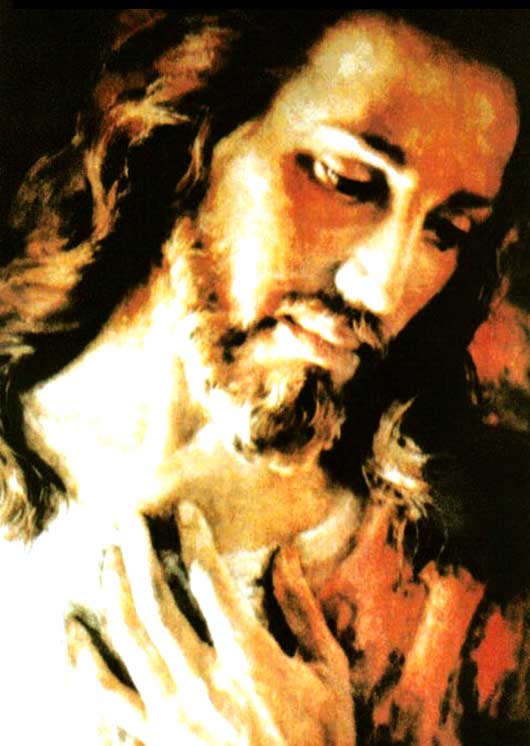 My Beloved People:
JUST LIKE THE WAY MAN NEEDS TO BREATHE…
THAT'S HOW MAN NEEDS MY WORD WITHOUT WHICH THE HUMAN CREATURE WOULD WANDER AIMLESSLY.
My Beloved People:
Where have you gone? Which roads have you taken ignoring My Word? You come and go, wandering from one place to another without looking, just following the majority of humankind.
MY PEOPLE, AWARE OF THE INSTANT YOU ARE LIVING, MUST BE THE VOICE THAT ALERTS YOUR BROTHERS SO THEY WILL NOT CONTINUE BEING IGNORANT AND LOSE THEIR SOULS.
My People have not yet awakened from the slumber, on the contrary, they have been plunged deeper in the slumber, and that is not My Will… I want the souls to be saved and to come to the knowledge of the Truth[11], the Truth I preached on Earth and remains written in the Holy Scriptures.
Beloved:
Pray. Without praying and without receiving Me, you will be far from finding My Way; and without the right intention to fully comply with My Will, you will never reach the Eternal Life.
Human creatures feel that if they have good intentions they will be saved. NO! NO! Good intentions do not save, but the acting and working as is the Divine—not human—wish.
Children:
GOOD INTENTIONS ARE NOT ENOUGH.
THE GOOD INTENTIONS NOT CARRIED OUT ARE FOUND IN HELL.
TO REACH THE ETERNAL LIFE YOU MUST FULLY COMPLY WITH MY WILL.
My People will not be exempt from going through the Great Purification. My children will be tested like gold in the crucible; I will delight in My People.
My People have not been warned about that instant of purification…
My Church ignores what will happen, some of My Consecrated Children deny the fulfillment of the coming events, as they forget that they gave Me their lives and their consecration. It is very painful to Me to hear some of My Consecrated deny My Mother, deny the Warning, deny the Purification, deny the antichrist, and deny other events for which humankind must be purified of the evil it drags.
THIS IS NOT THE INSTANT FOR THE LUKEWARM; YOU MUST TAKE A ROAD, AND I DEMAND YOU TAKE MINE… OTHERWISE, YOU WILL BE LOST.
You continue amid the savagery of humanity, you act worse than wild animals against each other, without loyalty or unity, and tearing up Works and Instruments. This is the reaction of human creatures who find themselves along some road of life, thinking that they love Me, but are ignorant of My Word, and reject the signs and signals that My House has announced and are being fulfilled at this instant.
MY MYSTICAL BODY HAS NOT BEEN INSTRUCTED ABOUT WHAT IS COMING…
IT GIVES ME PAIN TO SEE SO MANY SOULS GET LOST BECAUSE OF THEIR IGNORANCE: THEY
FORGET THAT I ARRIVE WITH A PAIR OF SCALES OF JUSTICE IN MY HAND, AND ALL WORK, AND EVERY ACT WILL BE WEIGHED ON MY BALANCE.
At this instant the devil has taken over the human creatures because of their lack of determination caused by the lukewarmness of the souls and the lack of the appropriate teaching and preparation of My People on the part of those consecrated to Me.
My People are indifferent to My Affairs. This has led them to all the vices, getting lost all the time, thirsty for sin. I will reward My children, those who have persevered, those who keep the Faith in My Word, true and authentic.
Beloved children:
The plague silently advances against My People. The plagues of the bodily and spiritual illnesses become one to destroy My children, helpless and ignorant.
Fire will be a scourge for this generation, the plagues will increase as Men without God kill more and more of My People.
Beloved:
THE VAULT OF HEAVEN WILL APPEAR TO BURN; DO NOT LOOK AT MY RAGE, REMAIN IN MY WORD, IN MY TRUTH. I DO NOT FORSAKE YOU EVEN THOUGH YOU HAVE DECIDED TO MOVE AWAY FROM ME.
I am merciful. My Mercy is the reason that this humanity still lives. You have transgressed My Law, but not before succumbing to the weight of your own sins and irreverence.
My People:
UNITE, BE FRATERNAL, AND DO NOT HESITATE TO PROTECT ONE ANOTHER. UNITY IS THE STRENGTH OF MY PEOPLE.
Do not decline no matter how strong the winds get. You are the advocates for young children, children that satan has in his claws by means of the technology, the one that delights in perverting the minds of the children.
CHILDREN, VISIT ME AT THE TABERNACLE, RECEIVE ME IN THE EUCHARIST. EACH COMMUNION TAKEN CONSCIOUSLY, EACH ROSARY PRAYED WITH FERVOR, EACH ACT OF MERCY AND EACH ACT OF OBEDIENCE TO MY COMMANDMENTS IS A FOUNTAIN OF BLESSINGS FOR EACH ONE OF YOU.
Do not forget that when it seems like all is lost, that's when I will arise in Power, Glory, and Majesty for My People.
I bless you, My Love is with My People.
I anoint you with the oil of My Love.
Your Jesus
HAIL MARY MOST PURE, CONCEIVED WITHOUT SIN.
HAIL MARY MOST PURE, CONCEIVED WITHOUT SIN.
HAIL MARY MOST PURE, CONCEIVED WITHOUT SIN.