Sunday, April 19, 2015
Message Given by Our Lord Jesus Christ
To His Beloved Daughter Luz De María.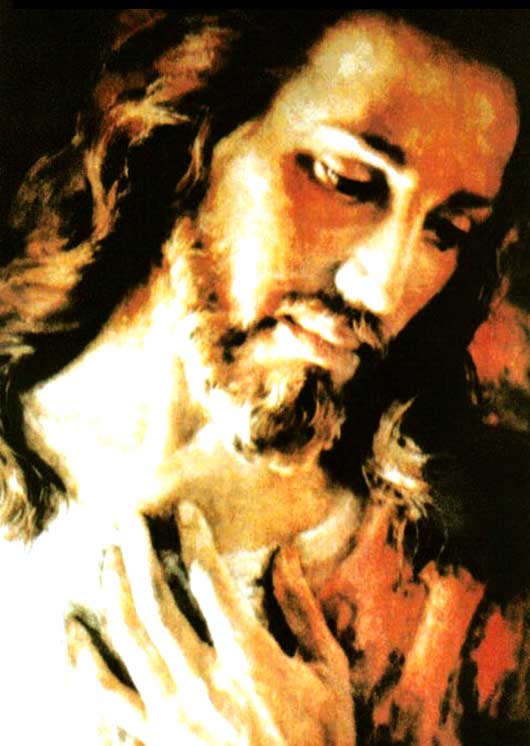 My beloved People:
I do not finish evangelizing My People…
I HAVE CALLED YOU TO CARRY OUT THE PERSONAL MISSION OF FULFILLING THE PURPOSE FOR WHICH YOU WERE CREATED: TO BE MY CHILDREN IN SPIRIT AND TRUTH.
My beloved:
Each one of you must comply with the evangelizing mission of salvation and mercy in My image. Let men know that Salvation is a gift from My House, and to achieve Salvation they must know how to pray, act, and work in My Will; otherwise, My Justice will be swift with each one of you.
Children, I am the Eternal News, My Love calls you from news to news. This is why I explain to you My own Word, so you will not distort it but comply with it and live the way My House mandates.
MAN MUST RESTORE THE ORDER HE HAS VIOLENTLY INTERRUPTED: MY ORDER. Therefore humanity must purify all that it has deviated, contaminated, diminished, transgressed, usurped and stolen from My Will.
I donate Myself again by explaining My Word for My People through My Prophet, and I will keep nothing: I WILL REVEAL EVERYTHING TO MY PEOPLE, THE PEOPLE WHO LOVE ME, RESPECT ME, FOLLOW ME, AND FULFILL MY WILL.
I will come again in My Second Coming, and before I do, I call My People to be action with the force of My Holy Spirit.
I am the Eternal Present calling this generation though unworthy of Me. I call this generation out of Mercy, I announce because of My Mercy, and I embrace this generation out of Mercy. I come to make you look at yourselves in the middle of so much wickedness, and each will see how much evil has penetrated in him. Then the men—seized with pain and anguish—some will return to Me, and others, using their free will, will give themselves to evil, thus becoming instruments that will torture My People.
I come to each human creature to make him see himself. No human being on Earth will escape from himself. It will be fear and need that will lead humanity to face itself, from within, without omitting a single act committed by each human being.
I WILL BE LOVE FOR THOSE WHO LIVE IN ME AND TERROR FOR THOSE WHO HAVE REJECTED SALVATION.
MY WORD DOES NOT REMAIN IN THE PAST. I AM PAST, PRESENT, AND FUTURE.
My beloved People, oh, what you have done to My Sacrifice!
Pray, My beloved, for My Church; it will be shaken and divided.
Pray, My beloved, for France; it will suffer strongly the hatred of its brothers.
Pray, My beloved, for the United States; it will suffer in nature and at the hands of terrorism.
Beloved children, hatred and rage are born from your giving yourselves to evil and from the dehumanization that result from separating from Me and My Mother.
Creation groans in pain and fear since it holds on itself the blood of innocents.
WAKE UP, MY PEOPLE!
In the tribulation I will be by your side…
In your pain I will be by your side…
In your anguish I will be by your side…
In famine I will be by your side…
Every instant I will be by your side…
When we meet I will be in front of each of you…
I WILL NOT ABANDON MY PEOPLE, I WILL NOURISH THEM WITH MY WORD, AND AN ANGEL
WILL COME DOWN FROM MY HOME, THROUGH HIM I WILL SEND MY WORD AND I WILL RESCUE MY PEOPLE, ALL THOSE WHO LIVE IN AND COMPLY WITH MY WILL.
.
Children:
THE UNITY OF MY CHILDREN IS THE FORCE THAT MAGNETIZES ME TO YOU. REMAIN AS ONE WITHOUT SEPARATIONS; ALL ARE ONE IN MY WILL.
I bless you. I Love you.
Your Jesus
HAIL MARY MOST PURE, CONCEIVED WITHOUT SIN.
HAIL MARY MOST PURE, CONCEIVED WITHOUT SIN.
HAIL MARY MOST PURE, CONCEIVED WITHOUT SIN.