Thursday, February 4, 2016
Message Given by Our Lord Jesus Christ
To His Beloved Daughter Luz De María.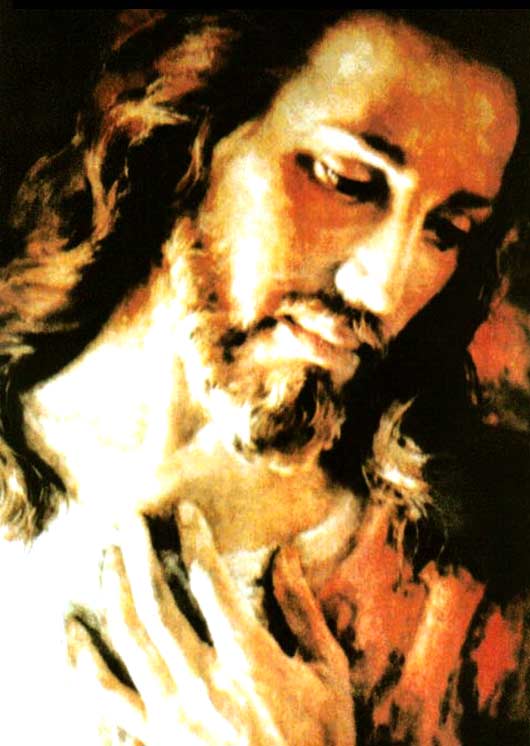 My beloved People,
MY WILL IS FOR ALL TO BE SAVED AND TAKE PART IN ETERNAL LIFE…
You call Me 'father'… When you call Me 'father', do you fully recognize Me or do you call me 'father' because the Our Father begins with these words?
I am Pastor of men of good will who implore My Holy Spirit's help to keep assisted and to achieve acting and working in sanctity, overcoming the unexpected from the world which is enraptured by satan and his legions.
I DO NOT CLOSE MY MERCY TO MY CHILDREN WHO REPENT, TO THOSE WHO SEEK A WAY OUT OF SIN AND CRY TO RETURN TO THE PATH OF SALVATION. My Kingdom has no end, it is before you for you to enter into My House and remain in a constant act of fusion with Me, giving them and giving Me to you so you will be living testimony on Earth.
AT THIS INSTANT MY CHILDREN MUST SURRENDER COMPLETELY TO ME; OTHERWISE, THE
TRAPS OF EVIL WILL MAKE YOU FALL BY ENLARGING YOUR HUMAN EGO SO THAT THIS HUMAN EGO WILL BE
THE GREATEST AND MOST FALSE GOD THAT YOU POSSESS.
Humanity is surrounded by false gods and you, My People, know this. The greatest and most false god was created by man and he is the cause of the greatest destruction, not only physical but also spiritual, affecting the entire Creation. The ego, the human ego, the one you constantly feed, grows without measure until it becomes a necessity for the creature and dominates him:
Indulging personal whims and pleasing him…
Making him feel better and more than his brothers…
Making the creature believe that the knowledge he possesses is bigger and greater than that of his brothers…
Allowing the heart that has been hardened by the lack of humility to hurt those who have surrendered to Me and who offer the oppression they suffer in favor of the soul of their oppressor.
This false god creates in each one of My children other false gods that undermine the spiritual terrain, the spiritual strength, and lead them to relegate Me because of wrong human respect which plunges them into folly, clouding the reason and subjecting them to human whims in order to make them diminish.
My beloved People, reason stops reasoning when it is guided by interest. Man has interests that control even the noblest causes; interest goes hand in hand with disrespect and ambition, which are bad company for men.
I have ordered you to cleanse the spiritual terrain, to burn everything that robs you of the strength to fight against wrongdoing; I call you to burn the rags of men that are contaminated with the interests that the enemy of the soul has embedded in you and, like larvae, they have lodged themselves without being noticed, acting and controlling at their will, in order for the human creature to believe the he walks ahead when he actually goes backward.
Weeds are not good company for men. Weeds cause envy and debase men; they lead men to forget love and charity towards their fellow men. With their branches, weeds lift up men until men see themselves so high up that they begin to think that their brothers will never be able to reach them; high up they take in air and swell up even more, but they do not take in pure, clean air; instead, they inhale the most contaminated air which makes them conceited ad nauseous, so much so that they underrate, despise and disqualify everything that is not the way they want it.
My children, man must walk so carefully! The powerful man will become the one who begs for the alms of love of the beggar.
When one of My children commits an act against My Love, when he commits an injustice and despises one of My own, he despises Me and when the enemy sees him angrily, he takes advantage of the situation and uses this man to spiritually hurt those who live adoring Me and recognizing Me.
You do not know the great influence over man that good possesses; it is enough to wish it and act; but you surrender to the insolent deceiver of men, the one that leads you to lose your sanity in an instant.
My People want to be god and therefore they have sunk in their personal god, their ego, giving it total control over their senses, over the virtues and gifts in order for them to be distorted. All that is good in the human creature is minimized by the human ego which deforms everything in its way; it wounds, disobeys, rebels, destroys, and contaminates everything around the man until he ends up alone and forsaken.
My People, My Father gave man all that is necessary for him to share the same life with Nature, but you have forgotten the sacred reality of Nature, not sacred because Nature is a god, but because Nature was created by the Divine Hand.
Children, human hubris looks down upon the gifts received and eliminates them without pity in order to meet man's needs without keeping in mind that no man is greater than Our Trinity, and that no science of men will surpass the perfect Creation of God.
Remember My Words: Man, in an effort to create, will create monsters; but the meanest of all is the same man because he has come to disrespect life itself. Is this infamy not part of the prompt appearance of the antichrist and his influence? Those who have denied Me will be the ones to admire the miracles and wonders of the deceiver who, with his power, will seduce the lukewarm taking them to join his ranks so that these will become the persecutors of their brothers.
You will see some who claimed to love Me and who, with false love, received Me in the Eucharist, become deceivers of men opposing My Word, and denying the Mystery of Transubstantiation. For this reason, he who follows Me must not boast until the instant of instants when he continues to be faithful to My Word.
My beloved People, with pain and sorrow you will see the betrayal of many of your brothers. Do not let them deceive you, even when you feel faint, because the time of the harvest will come, and you will collect the greater fruit. Be aware that I do not depend on man for My Will to be done; it is man who depends on Me to live in My Will and to fulfill all that I demand for man to be able to opt for Eternal Life.
Many of those who say they love Me will go out into the streets to adore the seductive liar! During instants of fear, the man who does not have a firm and solid Faith and has not been tested in his Faith will stumble like a boat rocks in the midst of a great storm, and not knowing how to row, will sink, and without the knowledge of one who lives in the midst of storms, he will despair, because his trust in Me will last while the sun is shining and as long as he does not have to face any trials.
My beloved People, you are tested, but the Faith does not diminish; instead, it grows, because you know all that is being woven in the world by the hands of those who serve evil.
My children,
WALK CAREFULLY. SATAN HAS GOTTEN HIMSELF INTO EVERYTHING FLOGGING MY MYSTICAL
BODY WITH NOVELTIES THAT ARE NOT MY WILL; AND THOSE WHO DO NOT KNOW ME IN DEPTH GET INVOLVED IN THE FULFILLMENT OF WHAT HURTS ME.
FOR THIS REASON MAN FASHIONS HIS OWN PURIFICATION.
The Warning is a preview of My Mercy for the souls who love Me and wish to continue struggling to respond fully to Me.
DO NOT FEAR, MY CHILDREN. MY JUSTICE DOES NOT GIVE AN UNNECESSARY PUNISHMENT TO SOMEONE WHO DOES NOT DESERVE IT. MY JUSTICE GIVES THE RIGHT MEASURE; NOT A CENTIMETER MORE OR A CENTIMETER LESS.
Beloved, delve into the knowledge of the explanation of My Word; out of love for Her children, My Mother has been a Faithful Messenger: She has not omitted anything about what is coming for humanity or about what will happen because of man's disobedience to Her Requests.
LOVE MY MOTHER AND REMAIN WITHIN HER HEART SO, LIKE HER, YOU WILL LIVE IN OBEDIENCE AND IN INFINITE LOVEFOR THE DIVINE DECREES.
Do not worry about worldly matters and do not listen to those who announce that they are 'the christ', for because of deception My children will be lost admiring one who, with lies in his mouth, will take them along wrong paths.
Man has touched the pinnacle of contempt, man has dared to pretend to be a god and this is a ruin that has accelerated the instant that will precipitate the bad decisions of the men who have power over the powerful Nations, thus advancing the power of evil over its Peoples, food shortages to uncontrollable pests and plagues, diseases that give man no respite, the same man that receives the lies from the powerful to put to death innocents who have not yet been born.
My beloved People, the pandemic is accelerating as a ruin of humanity, the elements undermine man's tranquility so that he reacts to what is not normal.
Pray, My children, pray for Italy; it will suffer. Pray. The Vesubius and the Etna volcanoes will shake their peoples.
Pray, My children; a bacteria will be scourge for all humankind.
Pray, My children; the land continues to shake with force. Pray for Chile. Pray for Japan.
YOU MUST NOT WAIT UNTIL, IN MY CONSTANT CALLS, I ASK YOU TO ACT WITH FIRM PURPOSE OF AMENDMENT. THE DESIRE TO CHANGE MUST BE BORN WITHIN EACH OF YOU BECAUSE IT IS URGENT AT THIS INSTANT.
YOU DO NOT POSSESS THE WISDOM TO SIZE UP THE CATASTROPHES THAT BEFALL EARTH… LISTEN TO MY WORD WHICH IS LIFE AND LIFE IN ABUNDANCE.
Do not be afraid; who is with Me is not against Me.
I bless you in a special way.
Your Jesus
HAIL MARY MOST PURE, CONCEIVED WITHOUT SIN.
HAIL MARY MOST PURE, CONCEIVED WITHOUT SIN.
HAIL MARY MOST PURE, CONCEIVED WITHOUT SIN.