Monday, December 12, 2016
Message from Our Lord Jesus Christ
Feast Day of Our Lady of Guadalupe.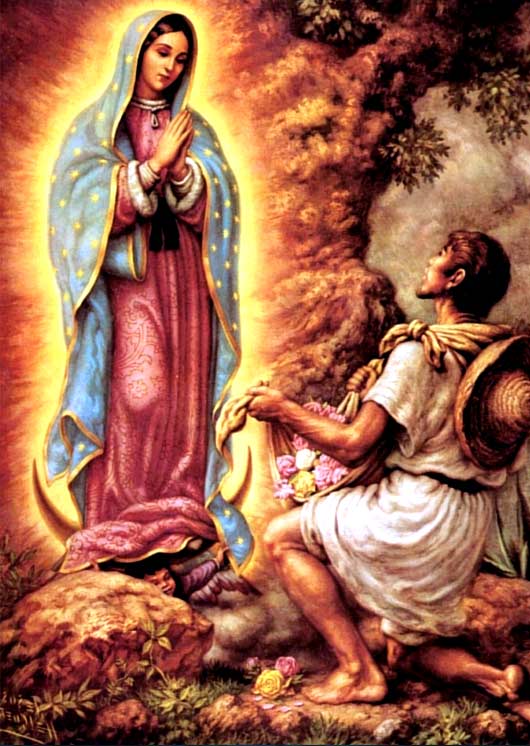 My Beloved People:
MAINTAIN THE CERTITUDE THAT I PROTECT YOU AT EVERY INSTANT, AS LONG AS YOU ALLOW ME.
My Mercy is open to receive those who come to Me repenting of their sins. Firm purpose of amendment is necessary so that the human creature may obtain the complete blessing implied by the forgiveness of sin.
MY MOTHER IS THE GREAT INTERCESSOR OF HUMANITY, THEREFORE THE SUN COVERS HER WITH ITS LIGHT AND THUS MAKES SHINE THAT WHICH HER LIGHT ILLUMINATES AND THE UNIVERSE IN ITS FULLNESS.
EACH ONE OF YOU IS HIDDEN IN THE MATERNAL LIGHT.
My Mother looks with pain on those who have broken away from the Light of Her Love in order to penetrate the darkness of their free will, not because My Mother leads them into darkness but through human stubbornness that does not obey but plunges into constant dissent.
WITH THE HUMILITY THAT CHARACTERIZES MY MOTHER, SHE THUS GIVES HERSELF TO MY PEOPLE IN A TILMA, IN WHICH THE GREAT TREASURE OF OUR WILL IS SET OUT, calling all men to be reborn in Our Holy Spirit, so that they do not live in a false religiosity, but in the grandeur of being children of the Living God.
Each of you must enter into the surest way to strengthen Faith and become aware that when man is willing and surrenders to Our Trinity, the human creature remains in constant movement, and its works and actions expand as a blessing for its brothers and sisters.
Therefore, My Mother, in this Invocation, is not shown only in the Earth, so that you do not limit Her Greatness, nor does She only look at the Earth from above and at a distance, but She looks at Creation from the Celestial Vault, a zealous watcher, and at the same time makes the stars shine so that they illuminate the night of Her children, who, without letting time pass, watch without sleeping.
SHE IS MY MOTHER, THE HEAVENLY QUEEN, THE MOTHER OF THE END TIMES
WHO GUIDES A FOOLISH, DISOBEDIENT, CAPRICIOUS, AND AT THE SAME TIME FEARFUL PEOPLE WITH A WEAK AND FALTERING FAITH.
My Mother loves you as who She is: Mother of Creation, Mother of rebellious Humanity, which does not pay attention to the Signs of this instant, nor heeds My Warnings so that evil does not deceive you in the presence of the antichrist, who is not an invention but the reality that Humanity itself has come to nourish with great ignorance.
My Beloved People, My Mother leads you to grow in drawing near to Our Trinity, awakening internally in the depths of your soul that which you possess and have not put into practice: the Gifts and Virtues that remain in every human creature for their own good and that of their brothers and sisters.
COME TO KNOW ME! I AM NOT A GOD OF PUNISHMENT; I AM MERCY ...
IT IS YOU, MY PEOPLE, WHO SCOURGE YOURSELVES WITH THE SAME DISREGARD WITH WHICH YOU ACT AND THE WILLFUL IGNORANCE WITH WHICH YOU REBEL AGAINST ME.
The instant will come when, subjected to the oppression of the impostor, lacking everything you need, subjugated and without freedom to utter a word, you will groan in great lament, and there will be gnashing of teeth for those who will wish to go away from where they will no longer be able to until My Legions save them if they so request.
DO NOT REJECT MY MOTHER, MY CHILDREN: SHE LEADS MY PEOPLE TOWARDS TRUE FREEDOM.
After this instant of mounting pain, and having passed through the crucible, the liberation of My People will come and My Mother will defeat evil.
My People, prepare yourselves! This instant requires that you be men and women of Faith, of praxis, of an immovable Faith, not only for yourselves, but in the service of those who are Mine. They need a Faith that will bring them to appreciate Divine Matters and not what is passing.
Be people of good, do not neglect what too frequently causes you to fall: the tongue. Ah, children, how you kill with your tongue, how you condemn with your tongue! NO, that is not a work of a child of mine, understand that man does not live by bread alone, but also by the word that comes out of your mouth.
The word is blessing or condemnation; I do not want dead works, but real and true ones. Whoever concerns themselves with causing harm to their brother or sisters, whoever does not cease slandering or calumniating a brother or sisters, "it would be better for him to have a millstone round his neck and be thrown into the sea than to scandalize one of these little ones." (Lk 17:2)
You do not attend to My Words, you take them lightly, and so you continue in such great errors that you constantly live on the scale that weighs the works and acts of man.
MY PEOPLE, LIVE WITHIN MY TRUTH, DO NOT JUDGE BUT LOVE, MAKE REPARATION, AND LOVE
...
MY LOVE OVERCOMES EVERY OBSTACLE.
Do not be like those who say to Me, "Lord, Lord" and destroy their brothers and sisters.
Love each other as Our Trinity loves you, respect one another; may it not be so that you think that you act well and instead are stumbling blocks for your brothers and sisters. Do not be a reason for contention, as this is what the devil incites in men in order to invade their thought and darken their heart.
You are living in instants of confusion, great confusion. Do not let yourselves be deceived.
Pray so that you are not deceived.
I call you as the Shepherd of souls; My Flock remains attentive to My Calls. I am freedom and peace.
Look up, from on high purification is approaching, the fire is lit upon the Earth and therefore My children grieve.
Pray, My children, pray for Chile, it continues being shaken.
Pray for Peru, it will weep because of Nature, it shakes.
Pray for France, My children do not rest, they live in anxiety.
Pray for Indonesia, the great volcano awakens, the same in Sicily.
Pray for Mexico, this People of My Mother who rebel, minimizes human life and burns in immoral vice; it is shaken and humbled by its volcanoes.
My People, look to your resplendent Mother, calling you to prepare yourselves promptly in spirit and truth, not satisfying yourselves with what is mediocre but penetrating into that which leads you to awaken and to grow in the spirit.
Knowledge is not improper if it is in Me ...
Knowledge is not improper if it is in order to grow and not to decrease ...
YOU MUST REASON IN ORDER TO DISTINGUISH BETWEEN WHAT IS GOOD AND WHAT IS WRONG; THIS IS NOT JUST ANY INSTANT, CHILDREN, IT IS THE INSTANT OF INSTANTS IN WHICH YOU ARE LIVING.
The devil pours out his evil: division, so that My children attack one another. You should love your brothers and sisters, and desire their good.
My People, My Mother does not demand that you be Her children, but gives Her Love to each one of you. That is why She calls you to remain in My Presence, not being spectators, but each one assuming the responsibility of saving their soul and of being an active part of their brother's salvation.
My Mother has not departed from you Her children; therefore, She accompanies you and reveals to you the greatness of Her Devotion, Her Love, Her "Yes", and She invites each one of you to pronounce that "yes" to Our Will so that you do not deny yourselves Eternal Salvation.
DO NOT NEGLECT MY CALLS. I DO NOT ALLOW MY PEOPLE TO WALK ALONE. I WILL SEND YOU MY ANGEL OF PEACE SO THAT IT PROTECT YOU AND ENLIGHTEN YOUR WAY, SINCE MY LOVE AND MY LIGHT THEREIN WILL NOT FADE.
You must be faithful to My House, attached to My Truth, to the Divine Law, not to that which men bring forth amid the chaos that penetrates and deepens within Humanity. Do not forget that every effort to overcome evil is an act of love towards Our Trinity and a sign of love towards My Mother.
My Beloved People:
MY MOTHER IS THE MOTHER OF EACH ONE OF YOU: SHE LOVES YOU WITH INFINITE LOVE.
I bless you.
Your Jesus.
HAIL MARY MOST PURE, CONCEIVED WITHOUT SIN.
HAIL MARY MOST PURE, CONCEIVED WITHOUT SIN.
HAIL MARY MOST PURE, CONCEIVED WITHOUT SIN.