Saturday, May 26, 2018
Message from Our Lord Jesus Christ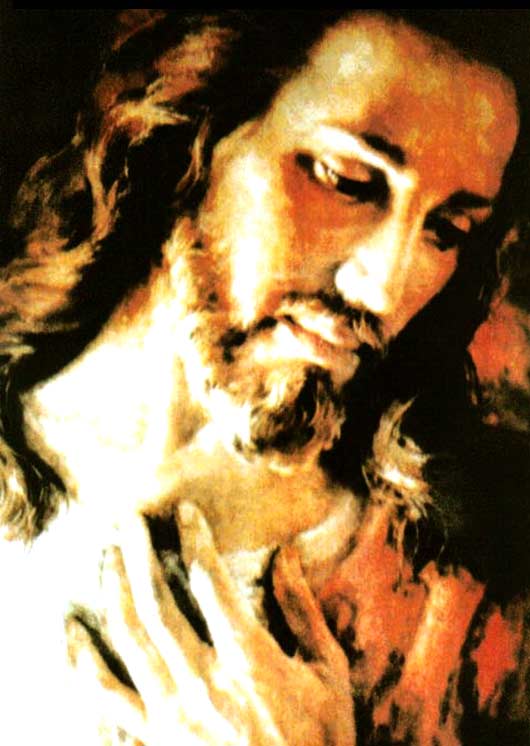 My beloved People:
I LOVE YOU, YOU ARE THE CHILDREN OF MY HEART.
MY HEART OVERFLOWS WITH LOVE FOR EACH ONE OF YOU: I REMAIN WAITING FOR YOU TO CORRESPOND TO MY LOVE.
I see every human being, and a great majority are dissatisfied with themselves due to the greed that inundates them within. They want what they do not have, and when they have what they wanted, they do not find it sufficient. I grieve over this, given that this obsession with possessing the best and the greatest is the fruit of the accelerating alienation into which humanity has plunged regarding everything that is Mine.
My Beloved People, I want you to reason and to be aware of the urgency with which you must act and work in this instant of confusion that has taken possession of Humanity.
SOME OF MINE CLING TO SCIENCE IN ORDER TO DENY THE EVENTS AND SIGNALS THAT ARE PART OF THE SIGNS OF THIS INSTANT, WHICH ARE MOSTLY CALLS FROM HEAVEN SO THAT HUMANITY AWAKENS FROM THE SPIRITUAL LETHARGY IN WHICH YOU ARE LIVING.
Science has been found unable, in some cases, to explain to man the cause of the phenomena that Humanity is facing at this instant, and the result is that science calls them "inexplicable", due to the force and continuity with that some natural events are occurring.
IT IS I, YOUR JESUS, WHO BESEECH MY MOTHER NOT TO STOP, TO CONTINUE ALERTING YOU SO THAT YOU DO NOT GET LOST, SO THAT THE PRIDE IN WHICH YOU ARE LIVING COMES OUT OF YOU, AND SO THAT YOU ENTER INTO THE OBEDIENCE TO WHICH MY HOUSE CALLS YOU. I ask My Mother to alert you so that you open your eyes and see, but My People rebel at the instant just as they rebelled in the past.
My children refuse to enter into the Communion of Saints; free will leads them to work and act according to personal criteria, and this is a great danger to the soul.
I need My People to be a true bearer of My Word so that each person makes their life a constant practice of My Will.
You must remain disposed to fulfilling the Divine Law, the Sacraments and other norms for life in My Likeness (Cf. Heb 5,7-14) so that you are virtuous and act in an orderly manner, disposed to do good and to turn away from everything that is not Mine.
My Beloved People, it is urgent that you enter upon the way of conversion ... I CALL YOU TO CONVERSION BECAUSE YOU WILL FACE GREATER CONTROVERSIES THAT WILL LEAD YOU TO WORK AND ACT OUTSIDE MY WILL, APPEALING TO MAN'S RIGHT TO BE FREE.
My People allow themselves to go like sheep to the precipice, working and acting in a licentiousness that has surpassed the previous offenses with which Humanity gravely offended My Father's House.
Children, the devil is upon Humanity, disorienting you with everything possible for him so that you get lost. Evil is cunning and sets traps so that you are confused and see everything as good. The devil knows man and knows that man enjoys what is forbidden (Cf. Gen 3, 1-7), he knows that man likes to feel free, and he deceives him, leading him to unbridled licentiousness, to the killing of innocents. THOSE PEOPLES WHO ACCEPT THE KILLING OF THE INNOCENTS DO NOT KNOW WHAT THEY ARE DOING, THEY CHANGE THEMSELVES INTO A DWELLING FOR INFERNAL SPIRITS, AND THAT IS WHY YOU, MY FAITHFUL, NEED TO BE FUSED WITH THE FULFILLMENT OF THE DIVINE LAW AND BE CREATURES OF GOOD, COMPREHENSIVE, DISCREET, WISE IN YOUR BEHAVIOR, CREATURES OF IMMOVABLE FAITH, OF ADORATION TOWARDS ME SO THAT YOU MAY MINISTER TO ONE ANOTHER AND SO THAT THE ACTION OF EVIL DOES NOT REACH MORE SOULS.
I see so many of those who call themselves My children committing sacrileges, over and over again, without the slightest responsibility or fear.
YOU MUST DECIDE TO OVERCOME YOUR WEAKNESSES:
Whoever is frivolous in their words and uses them to kill their brother's reputation, let him control himself...
Whoever allows thought the freedom to fly wherever it wants, let them dominate their thought...
Whoever uses their thought so that it takes wrong and sinful flight must change now! ...
Whoever wants to find easy answers to everything in order to believe, let them seek Me first, as they will not find all the answers by asking without seeking and approaching Me...
MAN IS A STUBBORN CREATURE AND REFUSES TO ACCEPT THAT IF HE WANTS TO MAKE AMENDS HE MUST CONFORM TO THE GOOD AND SEEK ME.
DO NOT FORGET THAT SALVATION DEPENDS ON EACH PERSON, AND THAT YOU THEREFORE NEED TO WALK TOWARD ME.
My children, I want everyone to be saved; you must be righteous in your work and action, since those whose action is double-edged fall into sin over and over again, until it becomes a vicious habit that makes them succumb to evil.
My children have to be righteous in thought and deed; at all instants action must be preceded by the desire to please me - otherwise, you are hypocrites.
My People must remain prepared to give their very best at this instant. I know you by the intention with which you work and actualize even the smallest thought.
MY PEOPLE ARE CONTINUALLY PIERCING MY HANDS AND MY FEET WITH DISOBEDIENCE TOWARDS THE DIVINE LAW AND TOWARDS THE SACRAMENTS: HOW I SUFFER OVER IT!
I AM A KING WITH A PEOPLE THAT HAVE REBELLED.
Pray, the spark of war keeps coming closer.
Pray, children, the United States will be left alone: its allies will forsake it. Pray, children, Nature continues its passage through Indonesia and Italy.
Pray children, Central America shakes.
My people, do not accept modernism; be more spiritual and less worldly - you are the fertile ground which I use (cf. Mt 13,8) so that My Mother leads you and so that evil is fought.
My People are not aware of how much they offend Me when they act outside of My Will.
My People:
COME TO ME, ALLOW MY HOLY SPIRIT TO LEAD YOU.
My people, remain attentive so that you are not confused.
I carry you within My Heart. I love you.
Your Jesus
HAIL MARY MOST PURE, CONCEIVED WITHOUT SIN
HAIL MARY MOST PURE, CONCEIVED WITHOUT SIN HAIL MARY MOST PURE, CONCEIVED WITHOUT SIN