Monday, February 21, 2011
Jesus the Good Shepherd's Urgent Message to Humanity!
My Word: Powerful Armour for the Demise of Fortresses.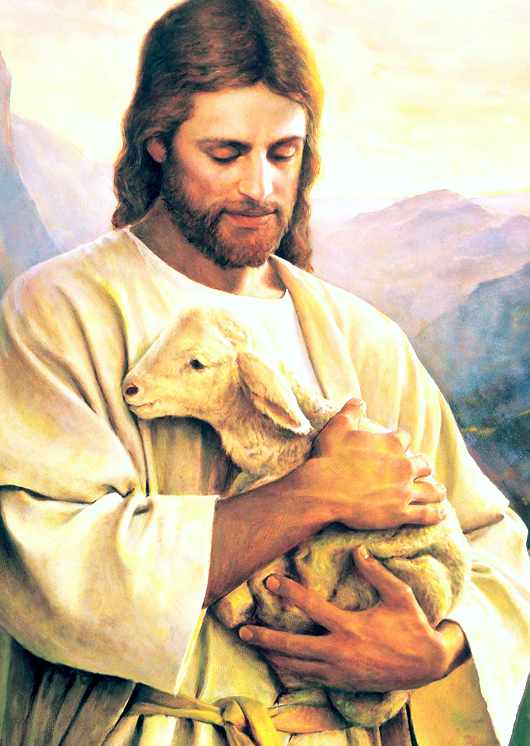 My children, may the peace of the Father, and of the Son, and of the Holy Spirit, be with you.
My little ones, I want to announce to you that I will be with you for a short time, after my Warning I will be apart for the compliance of all that it is written; do not be sad, rejoyce, I leave to prepare for you dwellings in the New Heavenly Jerusalem. I leave you My Mother, My adoptive Father Joseph, My beloved Michael and the legions of Archangels and Angels, which together with you, my militant army, will defeat My adversary and his hosts of evil.
My children, My Word is powerful armour for the demise of fortresses; I give it to you so your Armour is complete and therewith you can repell all attacks of my adversary. Remember that the strongest attacks will be in your mind, senses, powers, memory. It is in the mind where you will receive attacks most frequently. My adversary knows you, and of your weaknesses: if he has control over your mind, it will be easier to control your body. For this, I give you today My Word, which is the Sword of the Spirit, for you to implement and use it every time you receive mental attacks. And so, your Armour is complete, for you to wear every morning and night, and teach it to others; remember to extend it to your relatives. I remind you of it so that you may defend yourselves during these times of spiritual battle.
EVERY CHRISTIAN'S ARMOUR FOR THESE TIMES
Ephesians 6, 10-18 wear it as a warrior on its way to the battlefront, Psalm 91, Reinforced with the Armour of My Mother's Rosary, together spiritually with the Immaculate Heart, Compliance with my Precepts, being in God's grace, if possible, daily Holy Communion. Spiritual Communion, for the times of the great trial, Faith, Hope, Charity and above all, much Love. Consecration to My Precious Blood, Prayer of Protection to Saint Michael, Leon XIII's Exorcism, Prayer to your Guardian Angel, Chaplet to the Angels, Sword of the Spirit (Word of God).
When you are attacked, reply with My Sword of the Spirit, like this:
LACK OF PARDON: EZEKIEL 20, 43 MT 18, 21, 34
MUSIC'S SUBLIMINAL MESSAGES: ISAIAH 5, 11.12 56, 12
MOCKERY: ISAIAH 28, 22
HATE: TOBIAS 13, 14
CRAFT: ISAIAH 47, 11 AL 15 57, 3.4
OUIJA BOARD: EZEKIEL 44, 6 AL 9
LIES - DECEIT: EZEKIEL 13, 22 GALAT 3.1
BLASPHEMY: 2 MACCABEUS 15, 23.24
ARROGANCE: PROV. 16, 18.19
DEATH: PSALM 79, 10.12
FOREFATHERS: EZEKIEL 18 ALL CHAPTER
INHERITANCE: LEVITICUS 17, 11
PRIDE: EZEKIEL 28, 11 AL 19
POSSESSED: PSALMS 18-27-91 7, 15
TIED MIND: JEREMIAHS 29, 8.9
LICENTIOUSNESS WOMEN – MEN: AMOS 4 1 CORINTHIANS 9.10
IDOLATRY: JEREMIAHS 7,30
MALEFICE: ISAIAH 44, 20 PSALM 115, 4.8
ADULTERY: PROV. 7, 6 AL 27 ECLE. 9, 4
LUST: JEREMIAHS 13, 27
PROSTITUTION: ECCLESIASTES 19, 23
MOTHERLY WOMB'S HEALING: PSALM 139 LUKE 1, 39.44
BITTERNESS: HEBREWS 12, 15
CURSE CANCER: EXODUS 34, 7 – Break curse
OCCULTISM: DEUTERONIMOUS 7, 24 AL 26
FEAR: LUAN 4, 18 2 TIMOTHY 1.7
FORNICATION: LEVITICUS 20, 18
REJECTION: JEREMIAHS 30, 17- JUAN I, II
JEALOUSY: NUMBERS 5, 12.14
ANGUISH: LUKE 4, 18
SLAVERY: ROMANS 8, 15
TORMENT: APOC. 9, 4.5
ANTICHRIST: 1 JOHN 4, 2.3
Hence, My militant army, learn to use the Sword of the Spirit and I reassure you that My adversary will not be able to harm you. My peace I leave you, My peace I give you. I am your Master, Jesus the Good Shepherd, Liberator if His people. Make this message known to all Nations.