Monday, January 9, 2012
Message from Our Lord Jesus Christ
To His Beloved Daughter Luz De María.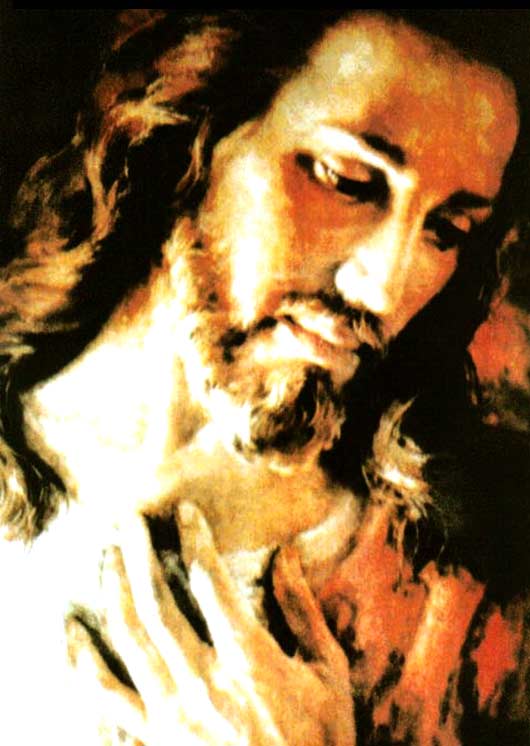 My People, My beloved People:
I COME FOR YOU, FOR THOSE WHO WILL GIVE ME THE GOLD OF HUMAN WILL, THE INCENSE OF FAITH AND THE MYRRH OF WILLINGNESS AND DISPOSITION.
The winds blow strongly throughout the Globe and My Children will find themselves affected by it. The winds of war will be heard with greater force from People to People and from Nation to Nation.
You have not lived in a total peace; in these instants the uncertainty of war will be generalized. The revolts in the Nations will cause havoc.
My beloved, My People, My faithful:
DO NOT FEAR BEING FEW, FOR IN ME EACH ONE OF YOU WILL BE INFINITELY MULTIPLIED, I ONLY NEED DISPOSITION FOR YOU TO ALLOW ME TO ACT AND WORK IN YOU.
I love you, I am infinite Mercy, I am infinite Forgiveness, and you are My children whom I wait for instant to instant to love you, to bless you and to forgive you.
I COME IN MY SECOND COMING, I COME WITH MY POWER, MY GLORY AND MY MAJESTY, but before this happens, I will send the signs from on High that will descend to Earth without delay and for this I desire the disposition of My People, disposition of mind, of your thoughts and heart.
How many wonders have been denied!
How much wisdom you have denied yourselves because you have closed yourselves off to Me!
You look for excuses to what I send, to abandon Me on the side and deny My Power and My Omnipotence.
You are not in those ages in which you thought the World was flat. The evolution of My children will be carried out in this instant. What is unknown will be revealed and those who have not believed will see with terror and those open to My Will will find fullness.
THESE ARE WINDS OF CHANGE, OF SPIRITUAL ASCENT, OF REBIRTH IN MY HOLY SPIRIT, OF AN ENCOUNTER WITH MY TRUTH, WITH THAT TRUTH YOU HAVE HIDDEN. MY PEOPLE, FOR YOU I COME, FOR YOU I DRAW NEAR, FOR YOU I CONTINUE TO GIVE MYSELF CONSTANTLY.
For you, My People, I constantly shed My Mercy and have delayed My Coming, but in the face of man's irreverent sin, the instant has arrived in which the events will be fulfilled and what has been announced will reach you.
I NEED, NOT CHILDREN WITH FEAR, BUT CHILDREN WITH LOVE, WILLING TO SURRENDER AND OFFER, TO GIVE THEMSELVES.
Something very important in the human being is truth, acting with truth, working with truth, speaking with the truth because to lie is to deny Me and to deny oneself, it is preventing Me from germinating in you, it is giving yourselves over to the dark side and My children tend much to deny themselves the truth, their truth. I AM THE TRUTH, I AM THE WAY, I AM THE LIGHT AND EACH ONE OF YOU AS A REFLECTION OF MY LOVE IS OBLIGATED TO LIVE WITH THE TRUTH BEFORE YOU.
UNITE, UNITY IS VERY IMPORTANT IN THIS INSTANT, it is that wall that nothing demolishes, it is that impenetrable wall. Thinking in unity, working in unity, and acting in unity with the truth as your flag, will achieve the fulfillment of My Orders and that My People can overcome all that will come, defeat every attack no matter how strong it may be.
I HAVE GIVEN MY MOTHER MY CHURCH SO THAT SHE, AS A FAITHFUL DISCIPLE,
GUIDES YOU IN THESE INSTANT IN WHICH THE DOOR OF REVELATIONS IS OPENED.
The hand of the enemy will fall upon one of My beloved Prophets. The enemy hand will believe it has defeated its God but this cannot be because the strength, the commitment, the love and blood of that beloved Prophet of Mine, will bear fruits in abundance and when the enemies see his preaching has been fulfilled, how they will lament having attacked him!
A persecution will arise against My Prophets, and the unity of My Church will be the shield that defends and protects them. But without leaving detail aside, this Christ, without abandoning His Church, remains with you and in you and My Mother will guide you by the correct path. Do not fear, She will crush the head of the venomous and deceitful serpent. That is why I ask you for truth in every one of your acts and commitment…
IN THESE INSTANTS I DO NOT DESIRE CHILDREN WHO ARE LUKEWARM; YOU NEED TO BE TRUE,
GIVING YOURSELVES WITHOUT THINKING ABOUT YOURSELVES,
GIVING YOURSELVES WITHOUT ASKING, ONLY GIVING YOURSELVES TO ME AND TO MY MOTHER, FOR WE WILL DO THE REST.
Each one of you remains with a Shield of Divine Love that protects you. Those strong and harsh instants will come that have already been announced in which you will deny Me, present and living in the Eucharist, instants in which My Churches will be closed; but you have forgotten that each one of you is a Tabernacle of My Love, you are a Temple of My Holy Spirit.
Those who try to deny My Revelations will find so much darkness in themselves that they will not be able to deny My Light.
A standard-bearer of Mine will help you with the truth in his mouth, not yet, but when you find yourselves in the instants of the Great Purification.
I WILL NOT CEASE GIVING MY WORD EVEN WHEN TECHNOLOGY DOES NOT EXIST, EVEN SO I WILL MAKE MY WORD ARRIVE THROUGH MY PROPHET TO CONTINUE GUIDING MY FAITHFUL PEOPLE.
Those who await the hour, live totally submerged in their own deception. I come without warning, soon, I come for those who have taken the path of Truth, of Faith, of Love, of understanding. I come for those of a clean and pure heart.
I WILL VOMIT THE LUKEWARM FROM MY MOUTH WITH GREAT SORROW,
BUT THIS IS THE INSTANT OF INSTANTS. I COME SOON, I COME FOR MY PEOPLE.
The Earth will roar greatly, great volcanoes will become active and man will not remember Me.
THIS IS THE INSTANT OF MY HOLY SPIRIT, SO THAT YOU UNITE MORE AND MORE TO ME AND TO MY TRUTH… AND INSTEAD YOU DESPISE ME WITH GREAT EASE.
You deny My Mother's calls because scholars do not want it to be spoken and My Mother brings the Truth to My People. But you will not silence Me, not the ruler or the scholar, not the high ranking one or the economically powerful, or the owner of the great television chains. NOTHING AND NO ONE WILL SILENCE ME, BECAUSE I AM LORD OF ALL AND MY WORD WILL GUIDE MY PEOPLE, it will lift them up in the instant in which My Church will seem to drown.
I REMAIN HERE WITH MY PEOPLE, BEFORE MY PEOPLE. YOU WILL NOT BE ALONE, YOU ARE NOT ALONE. I, YOUR CHRIST, GAVE MYSELF FOR YOU, FOR YOU I GAVE MY BODY, MY BLOOD AND MY DIVINITY SO THAT YOU ARE ONE WITH ME.
If you call Me, I come; do not wait anymore, give yourselves, be obedient and patient and do not forget that in these instants the Truth goes before My true children.
My People, your Christ blesses you, your Christ loves you, your Christ maintains you present.
I bless you, remain in My Peace.
Your Jesus.
HAIL MARY MOST PURE, CONCEIVED WITHOUT SIN.
HAIL MARY MOST PURE, CONCEIVED WITHOUT SIN.
HAIL MARY MOST PURE, CONCEIVED WITHOUT SIN.