Sunday, May 2, 2010
Urgent, Urgent! Do Not See, nor Hear, the False Prophet! Urgent Call to Mankind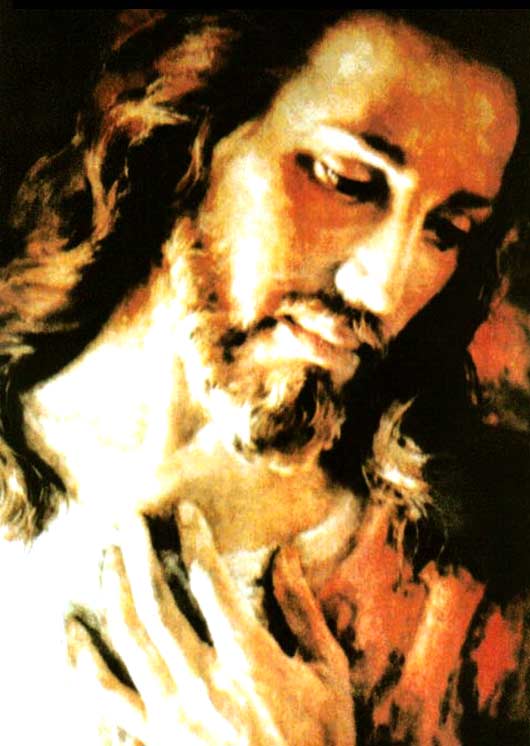 Sheep of my flock, may my peace be with you and the light of my Spirit guide you.
The coming one will be my last Pentecost among you; for everything is about to begin. My holy Spirit will depart, to begin the final battle for your freedom. Again I say to you, do not fear, my Mother and my Angels will watch over you my faithful flock.
The trumpets of freedom are about to sound, they will announce the end of your slavery. Gather my warriors; unite in prayer with my Mother and my Heavenly Armies; my Mother will show you the way forward and guide you to victory. I announce to you my children, that this world you know is about to pass away, as will all those who refused to listen to my voice and follow my ways.
When you hear talk of wars here or there, do not fear; know rather that all has begun. The immense majority of mankind will be lost by listening to the false doctrine of Maitreya. What sadness seizes my Loving Heart; I came in the name of my Father and mankind rejected me and continues to reject me; another comes with his own name and mankind will welcome him as if he were God himself. If they did that yesterday with the green wood, what will they not do today with the dry wood; how it pains me to see all this ingratitude; I who am Love, you deny me love. O ungrateful children, how many times have I knocked at your doors, without receiving any answer! You refuse to listen to my voice and to fulfill my precepts. That is why tomorrow when you come to your senses, it will be too late for you.
The time of my Mercy is coming to an end; after my Pentecost, my Signs and my Warning will come; it will be my last call to conversion; welcome my last bells of Mercy, you who waver in faith; for truly I tell you, there will be no more time for amnesty and forgiveness. After my Warning, darkness will envelop the earth and the prince of this world will begin his feast.
Read my Word, that ye be not deceived; abide in my love; love and succor one another; stand fast in faith, in love and hope. Do not see, nor listen to the doctrine of the false prophet, for it has the power of seduction; if you are not sealed with my Blood, you will be in danger of being swept away by his current of deception: making you love him and follow him; thus many will be lost.
Those who are of my flock, listen only to my Voice; remember that curiosity is not of God. Again I say to you sheep of my flock: do not see, do not listen to the false prophet, lest you be lost; remember what my Word says: "He who would save his life will lose it, but he who loses it for My sake will save it; for many are called, but very few are chosen."
You are warned. Prepare yourselves then my warriors, the trumpets that announce your freedom are about to sound. Gather around my Mother and my Angels. The banner of my Blood will give you freedom. Do not let yourselves be confused. The victory belongs to your God, it is written. Courage, it will be a short time, my people, before you see your King and Lord in all His splendor!
I am your Deliverer: Jesus the Good Shepherd.
Distribute and spread my messages; do not stand still; do not let the children of darkness remain smarter than the children of light.
POWERFUL PRAYER OF PROTECTION, GIVEN BY THE LORD FOR THESE TIMES OF TRIBULATION
(TO BE DONE TOGETHER WITH SPIRITUAL ARMOR-Ephesians 6:10-18 AND PSALM 91 EVERY DAY AND DON'T FORGET TO DO THESE EXTENSIVE PRAYERS TO THE FAMILY)
" O BREASTPLATE OF THE REDEEMER'S BLOOD; PROTECT ME IN ALL MY SPIRITUAL WAYS AND BATTLES; COVER MY THOUGHTS, POWERS AND SENSES WITH THY PROTECTING BREASTPLATE; CLOTHE MY BODY WITH THY POWER. MAY THE INCENDIARY DARTS OF THE EVIL ONE TOUCH ME NEITHER IN MY BODY NOR IN MY SOUL; MAY POISON, SPELLS AND OCCULTISM DO ME NO HARM; MAY NO INCARNATE OR DISCARNATE SPIRIT DISTURB ME; MAY SATAN AND HIS HOSTS OF EVIL FLEE FROM ME AT THE SIGHT OF THE SHIELD OF YOUR PROTECTIVE BLOOD. FREE ME FROM ALL EVIL AND DANGER, GLORIOUS BLOOD OF THE REDEEMER, SO THAT I MAY FULFILL THE MISSION ENTRUSTED TO ME AND GIVE GLORY TO GOD. I CONSECRATE MYSELF AND MY FAMAILIA TO YOU VOLUNTARILY TO THE POWER OF YOUR REDEEMING BLOOD.
OH MY GOOD JESUS, DELIVER ME AND MY FAMILY AND LOVED ONES FROM ALL EVIL AND DANGER."
AMEN